Homemade Copycat Panera Turkey Chili Recipe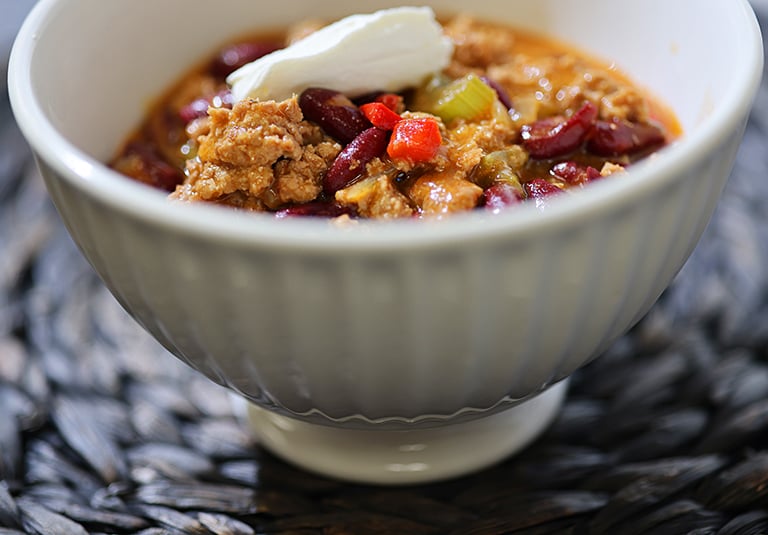 This is a Copycat version of the Panera Turkey Chili Recipe.
Panera Turkey Chili Recipe Overview
This homemade copycat ground turkey chili recipe resembles that of Panera. It is easy to make and it sure is a great tasting Panera turkey chili recipe that uses just one pot and affordable ingredients! It is a healthful way to warm up and settle in on a stormy fall evening.
Equipment used in this copycat Panera turkey chili recipe:
Large pot

Measuring cups

Measuring spoons

Wooden spoon

Knife & cutting board
Ingredients for this copycat Panera turkey chili recipe:
½ stick butter

Olive Oil – 1 tablespoon olive oil

All purpose flour – 2 tablespoons

Turkey – 1 pound ground

Onion – 1 small onion, small diced

Celery – 2 stalks, small diced

Red Bell Pepper – 1 small diced

Ancho or Poblano Chile – 1 small diced

Jalapeno – 1 pepper small diced

Cumin – 1 tablespoons

Chili Powder – 2 tablespoons

Paprika – 1 tablespoon

Kosher Salt – 1 teaspoon

Thyme – ½ teaspoon ground

Chicken stock – 2 cups

Kidney Beans – One 15 ounce can drained and rinsed
Cooking directions for this easy Panera turkey chili recipe
Prep the chili peppers instructions:

Open chili peppers by cutting off the top and stem, then cut in half lengthwise.

Trim off the inner ribs. This is where the heat-causing oils (capsicum) are mostly stored inside a chili.

Slice the outer skin lengthwise into strips, then cross-cut into small cubes.

All types of chili peppers can be prepped this way, which makes a milder chili flavor when cooked.

Use gloves, and wash hands really well after handling. The capsicum oil can be transferred by touch and can be really uncomfortable in places where it doesn't belong.

An alternate way to prepare chili peppers is to roast them in an oven, turning occasionally until the outer skin is blistered. Place in a bowl and cover for a bit, allowing the peppers to steam themselves. When cooled enough to handle, peel the blistered skin off as much as possible, chop the pulp and use this in your recipe. This will yield a more flavorful type of chili, with a lot more of the chili heat.

Cooking the copycat Panera turkey chili recipe instructions:

Heat a large pot over high heat, add the butter and olive oil.

When the butter is melted and starts to foam, add all the diced veggies (chilis, celery, onion).

Lower the heat to medium and cook until the onions are translucent, and the peppers are soft.

Turn the heat back up to high, add the ground turkey.

Add all seasonings. (Chili powder, paprika, cumin, salt, thyme)

Cook and stir occasionally until the turkey is browned and no pink is showing.

Add the flour and mix well until the flour is dissolved, cook for 3 minutes.

Slowly add the chicken stock and stir well until everything is well blended.

Simmer for 10 – 15 minutes (or longer) to thicken. If you want it thicker, *see below for instructions on making and using a roux

Add the kidney beans and cook just until the beans are hot.

Serve this copycat Panera turkey chili recipe with a dollop of sour cream for a delicious stew.
*Making and using a roux for this copycat Panera turkey chili recipe
Step 1 Heat a small skillet or pan over medium. Add 1 tablespoon of butter (appx) and melt.
Step 2 When the butter is melted and begins to foam, add an equal amount of flour (appx 1 tablespoon).
Step 3 Whisk and cook for about 90 seconds. The roux will be smooth and slightly browned.
Step 4 To use in the chili for thickening purposes, slowly introduce the roux into the hot chili, stirring or whisking well to dissolve it. Once incorporated and well blended, let the chili cook a few minutes as it gets thicker.