Heart Healthy Pesto Chicken Recipe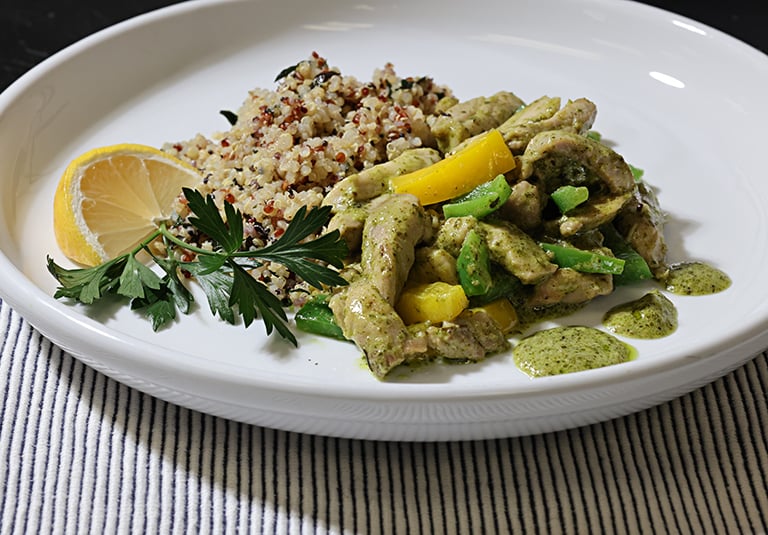 Cardiologist Recommended Heart Healthy Pesto Chicken Recipe With Quinoa.
Easy Heart healthy Pesto Chicken Recipe Overview
This heart healthy meal is cardiologist recommended and comes together in two skillets and creates an amazing taste combination. Tri-colored quinoa with fresh parsley will satisfy and provide probably the most healthful grain you could eat. The pesto cream sauce accents the tender chicken and will have you coming back to this recipe time and time again.
Equipment Needed for this heart healthy Pesto Chicken Recipe
2 skillets

Cutting board

Knife

Measuring spoons

Saucepan for the quinoa
Ingredients for this heart healthy pesto chicken recipe
2 cups chicken strips (breast meat or thigh, your preference)

1 teaspoon Italian seasoning

1/2 teaspoon dried basil

1/2 teaspoon thyme leaves

1 tablespoon olive oil

1/2 yellow bell pepper cut into strips

1/2 green bell pepper cut into strips

3 tablespoons pesto sauce (your preference of prepared pesto, available at most grocery stores)

1/4 cup heavy cream

1 cup quinoa

1/2 cup Italian or broadleaf parsley whole leaves. (curly parsley will work, but broadleaf is much preferred)
heart healthy pesto chicken recipe cooking directions
Chicken cooking instructions:

Heat a large skillet with olive oil (butter is an alternative) and seasonings to create a non-stick surface in the pan.

Put the chicken in the skillet and brown on all sides (about 6-7 minutes).

Add the pesto sauce and heavy cream and cook until it begins to thicken (6). Add the bell peppers and cook another minute or 2 until the peppers are tender. (7)

Quinoa cooking instructions:

Prepare the quinoa – put the dry quinoa in a saucepan and then about 1 3/4 cup of water (or even better, use chicken stock).

Heat on medium/high until low boil.

Cover and reduce heat to low for about 15 minutes. Stir occasionally.

Remove from heat when the grains open up. Set aside.

In a medium or small skillet, put 1 teaspoon of olive oil with parsley leaves and cook for a minute until the parsley is crispy, then add the cooked quinoa and stir to blend well.

Serve and enjoy!