Cardiologist Designed Heart Healthy Cod Recipe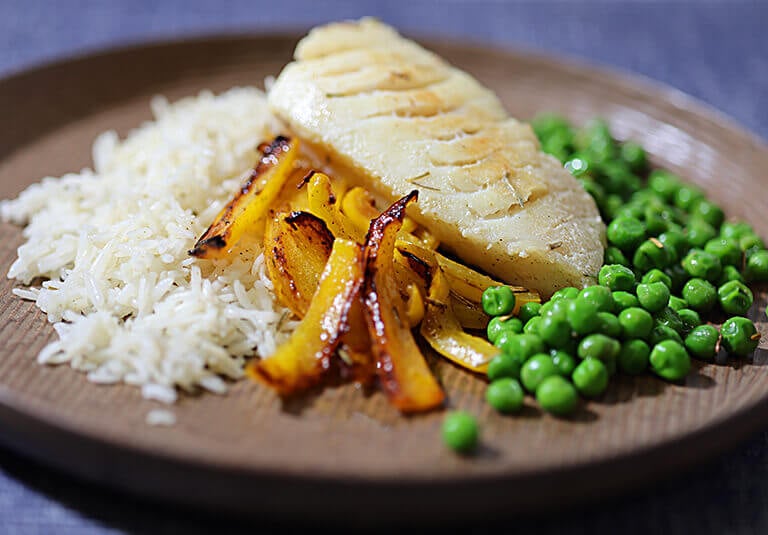 Cardiologist Designed Heart Healthy Cod Recipe
This heart healthy cod recipe is a delicious seafood heart healthy meal option that is low in sodium and cholesterol and helps fight hypertension while reducing plaque buildup on your arteries. This heart healthy cod recipe is also low in calories and helps with weight loss.
Criteria to qualify as a cardiologist recommended heart healthy recipe:

ingredients used for this recipe are low in cholesterol and low in salt. Recipes have little to no saturated fats and a good variety of vitamins and minerals that affect the heart.
Well, this heart healthy meal meets the cardiologist criteria and since it is chef crafted with the use of flavorful seasonings it offers great tastes while also being easy to prepare. Our heart healthy cod recipe flavors are created through the natural caramelization of the vegetables and rosemary seasoning.
heart healthy Seafood Cod Recipe Ingredients:
1-2 cod filets

1 cup peas, frozen or fresh if available

1 yellow bell pepper, sliced into strips

1 cup cooked white rice  (See a great prep recipe for rice here)

1 tablespoon ground rosemary

1 tablespoon whole dried rosemary leaves. Fresh leaves are an excellent alternative!

½ teaspoon kosher salt

2 tablespoons + olive oil for cooking
Kitchen Tools for this heart healthy Cod Recipe
2 skillets

Spatula

Measuring spoons

Knife and cutting board
heart healthy Cod Recipe Overview:
Note: There are 4 components to this heart healthy seafood recipe – each using a skillet. If you can get multiple skillets on your stovetop, that is a good way to turn this easy heart healthy cod recipe into a quick heart healthy seafood recipe. If you only have one skillet you can share skillets by cooking the rice and peas together.
Cooking heart healthy cod recipe instructions

Blend the 2 types of rosemary and the salt in a small bowl or cup. You will use this herb blend for all the components to this meal.

Sprinkle both sides of the cod with some of the herb mixture.

Heat a large skillet over medium high and put about 1 tablespoon olive oil in there and let it get hot (1). Put the cod in the skillet, reduce heat to medium and cook for about 5 minutes (2). If you want to cover the skillet, it will help cook more evenly and a bit faster. 

Turn the cod over and cook for another 2-3 minutes (3).

Serve with the rice, peas and peppers

Rice instructions

You can use a clean skillet, or you can use the same skillet that you used for the cod.

Just put the cooked rice (see here for another way to cook rice ahead of time) into the pan with the drippings, add a little more of the seasoning blend and cook until hot (2). I really like this technique of absorbing flavors into the rice. NOTE: If you are using a fresh skillet, heat first with olive oil and rosemary , add rice cook until hot (2).

Cooking peppers for our heart healthy cod recipe instructions:

Heat a skillet over high heat, add 1 tablespoon olive oil and some of the rosemary seasoning blend, let it get hot (1). 

Add the strips of yellow bell pepper (2).

Cook the peppers on medium/high, stirring occasionally to develop color on all sides. When the peppers have begun to caramelize (turn brown in spots), remove from the pan and set aside.

Peas instructions

Heat a skillet, place olive oil and some of the rosemary seasoning. Let it get hot (1). 

Put the peas in the skillet (2). 

Swirl until the peas are hot.

Serve with the cod, rice and peppers.
Tired of cooking your heart healthy meals? Purchase our pre-made heart healthy meals.