Gluten Free Crepe Recipe from Scratch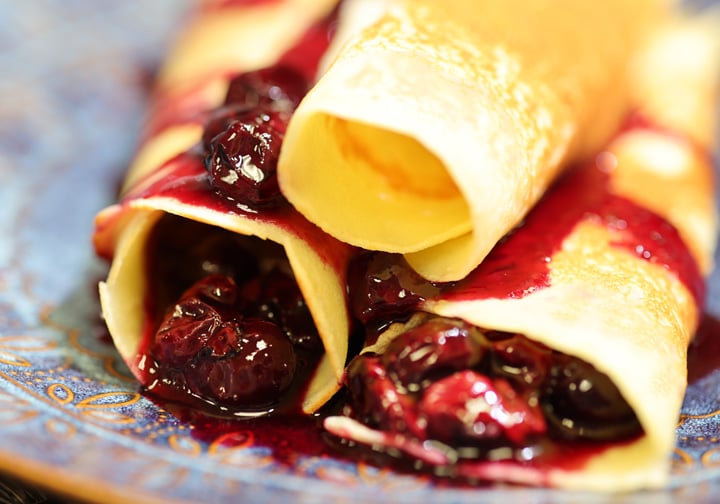 Serving Size: Makes 4 or 5 crepes, 7" – 8"
Easy Gluten Fee Crepe Recipe from scratch Overview
Light and delicious, surprisingly, these gluten free crepes are made with white rice flour, and can be made for breakfast, a dessert, or part of a savory dish. Of course, the taste of these gluten free crepes depends on your filling. You can opt for just simple butter or you can do repurpose like a blueberry sauce to stuff your crepe.
These crepes make for an absolutely delicious gluten free meal! The one thing I will say about the rice flour, is that it is a little tougher to fold or roll than traditional flour crepes. These tend to crack easier. I don't mind the cracks when at home, but if trying to make photogenic dishes for a blog… well, you know! I suggest stacking, folding or other creative ways to fill. Maybe try cutting in strips and layering with a cream cheese & fruit filling. Possibilities are endless.

These easy rice flour crepes are sweetened with orange liqueur if you have it, but orange juice can be used, orange zest, or other things you can imagine. You can also sweeten these gluten free crepes with your favorite no-calorie sweetener. I grow stevia in my herb garden, and use freshly chopped leaves, which I think is one of my new favorite uses. The season is coming to an end this year for new leaves, so I will dry what I have left and use those up. No unusual ingredients like xanthan gum, tapioca flour, or gluten free flour are needed to make gluten free crepes from scratch.
Kitchen Tools For This gluten free Crepe Recipe:
Mixing bowl

Measuring cups

Measuring spoons

Whisk

Frying pan
Easy gluten free Crepe Recipe Ingredients & Shopping List
Eggs – 2

Whole Milk – 1 cup

Butter – 1 tablespoon

Orange Juice – 2 tablespoons

Rice flour – 1 cup

Kosher salt – 1/2 teaspoon
How to Cook gluten free Crepes Recipe Instructions
Beat eggs in a medium-sized mixing bowl. Add milk, orange-flavored liqueur (or orange juice or sweetener), and melted butter. Stir well to incorporate all.




Add white rice flour and salt. Whisk until thoroughly mixed and blend the batter until smooth.




Heat a lightly greased, nonstick skillet over medium heat. Pour 1/4 cup of batter into skillet and swirl to evenly distribute batter into a circle. Cook about 30 seconds per side until the crepe begins to brown.




Flip with a spatula and cook on the other side for 30 seconds until the crepe begins to brown. Remove the finished crepe and keep warm in the oven until served.




Repeat until the batter is used up. You can make all pancakes or you can make some gluten free pancakes using the same batter.

Store these gluten free crepes in the fridge in an airtight container (gallon ziplock bags work great!) so you can have a fantastic gluten free meal at the ready.
Homemade gluten free Crepe FAQ's
What milk can I use in the gluten free crepe batter? You can use any regular cow milk. To make these gluten free and dairy free crepes, you can substitute the whole milk with an alternative milk such as: soy milk, coconut milk, almond milk or oatmeal milk.
If you want sweet crepes, use sweetened milk.
Use a vegan buttery spread to make the gluten free crepe batter dairy free.
Gluten free crepe serving suggestions: I enjoy serving these gluten free crepes in a variety of ways. Traditionally, crepes are served with powdered sugar and a bit of lemon juice. You can use Swerve Sweetener, Confectioners as a substitute for the powdered sugar. You can also have an amazing berry topping for a healthy, sophisticated crepe experience.
Other favorite fillings for breakfast are yogurt, fruit, a little jam or honey, or nut, sunflower or peanut butter.