The Best Gluten Free Pizza Margherita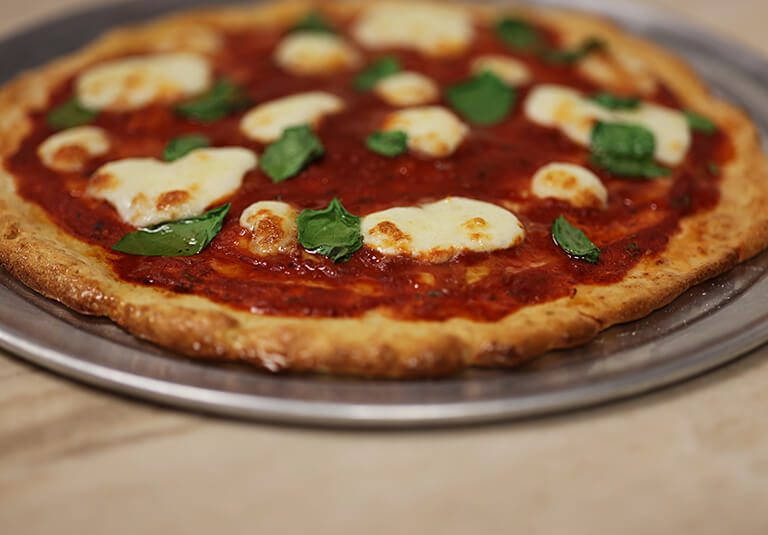 The Best Gluten Free Pizza Margherita Overview
This gluten free margherita pizza recipe is part two to the instructions on making a great gluten free pizza crust using a store-bought pizza crust mix. See the gluten free dough making process here. Margherita pizza is the historically famous pizza coming out of Naples, Italy, which defined the whole artisan Neapolitan style pizza which has taken the country by storm. There are countless woodfired pizza stands across the nation, and most feature a version of a simple margherita pizza. The beauty of the margherita is in its simplicity of fresh flavors, with San Marzano tomatoes, fresh mozzarella and fresh basil.
Equipment used to make this gluten free pizza margherita
Pizza pan

Pizza stone for the oven

2oz Ladle
Ingredients for this gluten free pizza margherita:
2 oz. per 12″ pizza San Marzano red tomato sauce.

1 bunch bresh basil.

Semolina or rice flour.

Fresh mozzarella (about 3 oz per pizza), which comes in many forms.

Extra virgin olive oil for drizzling on finished pizza.
How to make this gluten free pizza margherita
Preheat the oven to 450 degrees, along with a pizza stone if you have one. It will give you a crispier finish.

Dust a pizza peel with rice flour or semolina, then place the pizza crust on the peel to make up the pizza. The rice flour or semolina keeps the crust from sticking as you launch the pizza into the oven.

Ladle 2 oz of sauce in the center of the crust, and swirl in circular motions from the center out to spread evenly.

Evenly space blobs of fresh mozzarella around the pizza. You want to space it so every piece gets some after you cut the slices.

Place fresh basil leaves around the pizza. Use as much or little as you want. Some people cut the basil into smaller pieces to spread it more evenly. The traditional margherita in Naples had whole leaves used sparingly.

Place the topped pizza crust in the oven, either directly on your hot pizza stone or in a pizza pan.

Bake for 10 minutes or until the crust is a golden brown and the cheese has melted.

Remove from the oven, drizzle with extra virgin olive oil, cut and serve.