Farro Salad Recipe with Caramelized Root Vegetables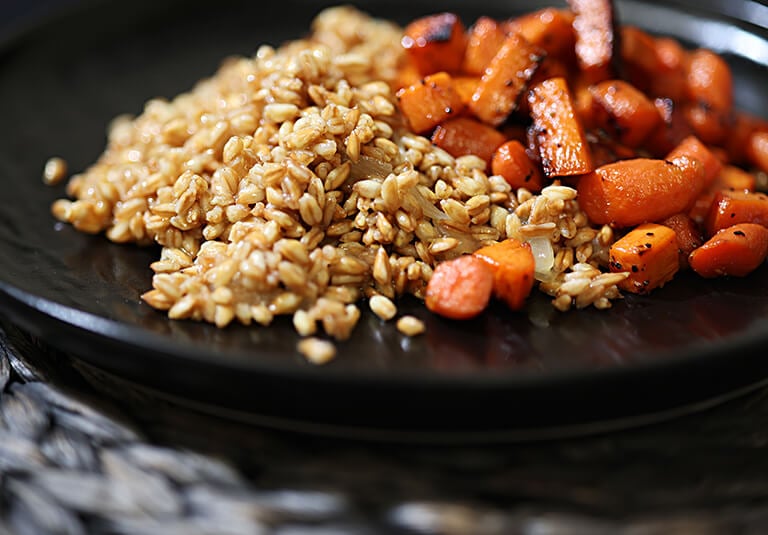 Farro is an ancient whole-grain with a nutty taste and chewy texture.
Farro Salad Recipe Overview
The ancient grain, Farro, was a staple of the Roman empire and is healthful and tasty grain making its way into elevated modern cuisine. Farro is actually a form of wheat, and as a whole grain offers many benefits as well as wonderful taste, frequently acting as a substitute for brown rice. This farro salad recipe with caramelized root vegetables recipe is sweet and savory, and it can be served hot or at room temperature, which makes this farro salad recipe a great option for both the lunch box and the salad plate. It is a great side dish for any healthy meal but is hearty enough to stand by itself.
Equipment used in to make this farro salad recipe
Skillet

Measuring spoons

Measuring cups

Spatula or wooden spoon

Large saucepan or pot
Ingredients in this farro salad recipe
1 1/3 cups farro

1 3/4 cups broth (vegetable broth, beef broth, or chicken broth)

2 tsp. salt

1 Tbs. olive oil for the farro

1 Tbs. olive oil for the root vegetables

1/2 yellow onion, cut into strips

1 small sweet potato, medium dice (about 1/2″)

2 carrots, medium dice (about 1/2″)

1 Tbs. brown sugar

½ tsp freshly ground pepper (or to taste)

Note: The exact size of the dice on the carrots and sweet potatoes is not that important, cut them like you like. But it is important that the carrots and sweet potatoes are all about the same size as each other, so that they cook the same.
Directions for making this farro salad recipe with caramelized root vegetables:
Cooking Farro

Heat a large saucepan over medium/high heat and add 1 tablespoon olive oil. Add the onion strips and cook until they begin to toast. Add the farro to the pan, tossing in the oil to toast the kernels.

Then add the stock or broth (vegetable broth, beef broth, or chicken broth) and simmer on medium/low until the farro kernels have a soft bite. About 20 minutes. Much like pasta, you can cook farro to al-dente with a slight bite, or cook a little longer for a softer bite. Check as you go and stop when it's just right for you.

(While the farro is simmering, make the vegetables. See below).

The farro will absorb most or all of the liquid. If the kernels are to your liking and there is still standing liquid in the pan, drain the excess liquid off before serving.

Add salt and pepper to taste and serve with the sweet potatoes and yams.

The root vegetables to complete the farro salad recipe

Heat a large skillet over medium/high and add 1 tablespoon olive oil. Put in the diced sweet potatoes and carrots. Cook covered for about 5 minutes to help make them tender.

Remove the cover and add 1 tablespoon brown sugar, ½ teaspoon salt and ½ teaspoon pepper.

Add a little water to help dissolve the sugar (about 1 tablespoon).

Simmer until the vegetables are tender, all the liquid is gone, and the surfaces have begun to turn brown in spots. If they begin to turn brown before they are to your preferred level of tenderness, lower the heat and add a little more water.

Enjoy this delicious farro salad recipe.
Farro Salad Recipe Nutrition Benefits
This farro salad recipe is both a vegetarian and a vegan recipe. Farro is a high-protein grain with 5g of protein per 1/3 cup serving. Getting enough protein can sometimes be a challenge for people on vegetarian and vegan diets because meat and dairy are common sources of the macronutrient – but a farro salad recipe offers a great solution.
In addition to its protein content this farro salad recipe improves your body's intestinal health. Emmer (found in farro) can be a source of resistant starch which passes through the small intestine without being digested. Resistant starch is fermented in the large intestine and feeds your healthy gut bacteria resulting in your body's improved gut biome.
Farro is a wheat and does contain gluten – making it not appropriate for those with a gluten allergy. Keep this farro salad recipe froen for up to a year. Once it is cooked, keep farro in the refrigerator in an airtight container for up to three days.