Easy No Bean Chili Recipe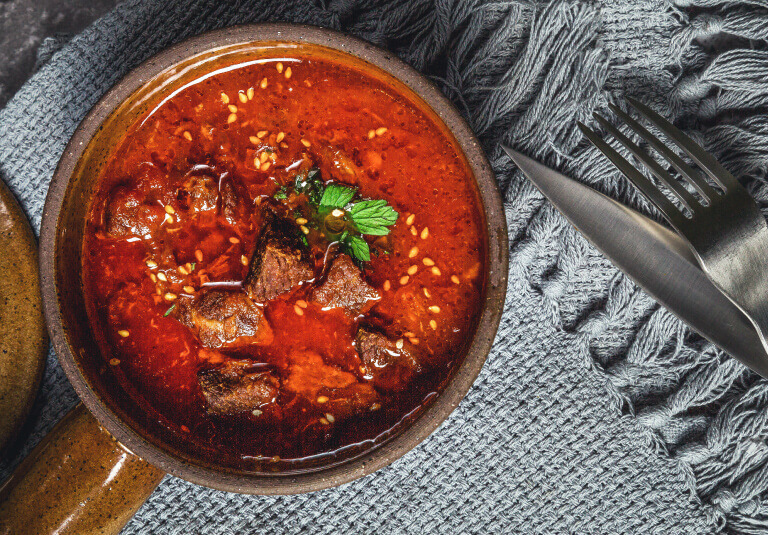 This no beans chili recipe is a delectable spicy stew that is sure to be a crowd pleaser and goes great as a side to any dish. Since this chili stew uses ground meat you can take this as an opportunity to use the cheaper cuts of meat like chuck roast to add to this chili sauce. The grinding of the beef will make even the most tough cuts of meat delicious and enjoyable for this no bean chili stew.
A benefit of making chili without beans is that you reduce the phosphorus content from the stew, making it a great choice for patients suffering from a renal condition. Also, since pre-cooked canned beans are often high in sodium, removing the beans will make this into a low sodium chili recipe also!
Easy No Bean Chili Recipe Ingredients:

1 lb ground beef or turkey

1 large onion, chopped

1 green bell pepper, chopped

3 garlic cloves, minced

2 tbsp chili powder

1 tsp ground cumin

1 tsp paprika

1/2 tsp salt

1/4 tsp black pepper

1 can (28 oz) crushed tomatoes

1 can (8 oz) tomato sauce

1 cup water

Kitchen Tools Needed For This Easy No Bean Chili Recipe

Large pot or Dutch oven

Chef's knife

Cutting board

Measuring cups and spoons

Wooden spoon or spatula

Easy No Bean Chili Recipe Cooking Instructions

In a large pot or Dutch oven, cook the ground beef or turkey over medium heat until browned. Drain off any excess fat.

Add the chopped onion, green bell pepper, and minced garlic to the pot. Cook for 5-7 minutes or until the vegetables are softened.

Add the chili powder, ground cumin, paprika, salt, and black pepper to the pot. Stir to combine.

Add the crushed tomatoes, tomato sauce, and water to the pot. Stir to combine.

Bring the chili to a boil, then reduce the heat to low and simmer for 30-45 minutes, stirring occasionally.

Serve the chili hot with your favorite toppings, such as shredded cheese, sour cream, or chopped cilantro.

Easy No Bean Chili Recipe Nutrition Facts:
This easy no bean chili recipe is low in phosphorus and potassium due to the notable bean absence, which is a health benefit for people suffering from renal failure. However the beef makes this no bean chili recipe a great source of iron, B12, and zinc.
Calories: 243

Total Fat: 12 g

Protein: 19 g
Enjoy your delicious and healthy no bean chili with a topping such as shredded cheddar cheese, sour cream, chopped onions and cilantro. Enjoy this easy no bean chili recipe as a hearty meal or serve with a side of cornbread or steamed brown rice.