Easy Keto Shrimp Recipe that is Low Carb, High Fat, and High Protein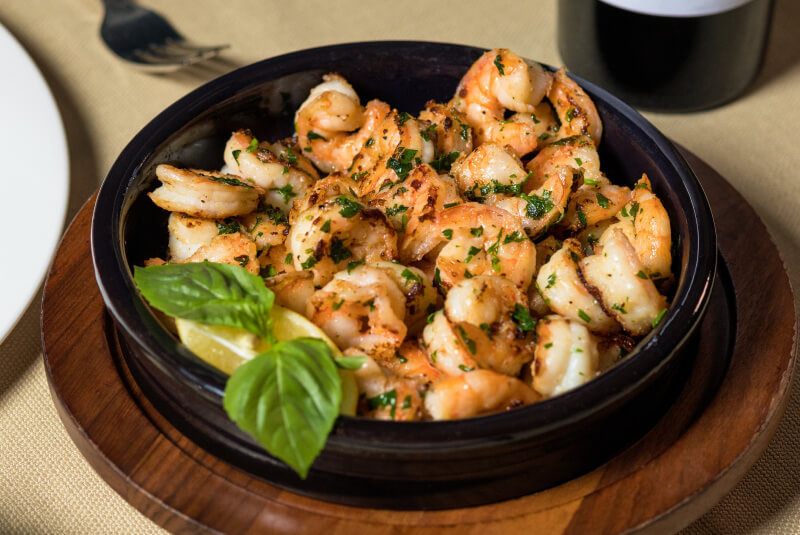 This Delicious Keto Cajun Shrimp Recipe is Low in Carb, High in Fat and High in Protein
If you've never tried cooking a keto shrimp recipe, you're in for a treat! It's a quick, easy way to cook shrimp and give it amazing flavor.
The definition of pan searing is searing food over high heat to create a flavorful, nicely browned crust. Pan searing doesn't necessarily cook the food all of the way through, it just browns the outside (like when you pan sear a roast before putting it in the oven).
However, shrimp cook really fast! Shrimp cook so quickly that pan searing means both browning the outside.

It only takes a few minutes to pan sear shrimp, so stay close to the stove!
Why is this pan searing shrimp recipe the best way to make shrimp?
Pan searing in oil or butter over high heat gives our shrimp superior flavor and texture.

No more rubbery shrimp!

The browned exterior is more flavorful than boiled or steamed shrimp.

This keto shrimp recipe is really versatile and can be served alone as a main course or added to tacos, pasta, etc..
Ingredients for this 10 Minute keto Shrimp Recipe
1/2 lb peeled* and deveined medium (21-25/lb) shrimp, or whatever shrimp you prefer

Kosher salt – 1tsp

Black pepper – to taste

1/4 cup of butter or 4 tbsp olive oil

1-2 tbsp Cajun seasoning
If you'd like to pan sear shell-on shrimp, make sure to add more oil to the skillet (about ¼ cup). This prevents the shells from sticking to the pan. You'll also need to cook the shrimp for closer to 4 to 6 minutes.
Step-by-Step Cooking Instructions for this 10 Minute keto Shrimp Recipe
If your shrimp is frozen, defrost shrimp is in the refrigerator overnight. You can defrost shrimp using a faster method by placing a bag of frozen shrimp in a large bowl of cold water for about 20 minutes or rinse under cold running water.

Toss the defrosted, drained, and dried shrimp with 1 tbsp of Cajun or Montreal seasoning. (Blot shrimp dry with a paper towel.)

Melt 2 tbsp of butter over medium high heat in a skillet. The olive oil or butter is critical for this keto shrimp recipe. Without enough oil or butter in the skillet, the shrimp won't brown properly and won't have as much flavor.

Add the shrimp so you can hear the "sizzle" as you gently lay the shrimp in the pan using tongs. Don't crowd the pan and don't move the shrimp around, let them sear!

Sprinkle with 1 tsp salt and sauté for ~2 minutes on each side, stirring occasionally. Since this keto shrimp recipe cooks quick I recommend staying by the pan. Raw shrimp has a translucent gray color that will turn orange/pink as the shrimp cooks. Cooked shrimp is opaque and no longer has a grayish color. The shape of the cooked shrimp will be curved, but it shouldn't be super firm and tight. Overcooked shrimp curl into a tight "C' shape. Remember the shrimp will continue to cook due to residual heat after you take it off the burner.
Serve this keto shrimp recipe hot or cold, both are delicious! A squirt of lemon goes great over the shrimp. Enjoy on its own or with a mixed greens salad or with some steamed brown rice, dirty white rice, or with pasta.
Helpful keto Shrimp Recipe Cooking Tips
Pat the shrimp dry: Moisture is the enemy of browning. Make sure to pat the shrimp dry with a paper towel before seasoning and cooking.
Pan sear the shrimp in batches: Don't add more than ½ pound of shrimp to the skillet at once. The shrimp should be spaced out in the skillet while cooking. This insures that moisture (the enemy of browning) will evaporate quickly and the shrimp won't sit in their own juices while cooking.
Use a wide skillet: A 12-inch skillet allows plenty of room to evenly space out the shrimp in a single layer. Use a non-stick skillet to prevent the shrimp from sticking, which helps keep all of the yummy browned flavor on the shrimp.
Don't move the shrimp: Moving food around in a skillet prevents it from browning, whether it's shrimp, chicken or fish. Just leave the shrimp alone and resist the urge to mix with a spoon. After 2 minutes, flip the the shrimp over, then leave them alone again to brown on the other side. This will ensure you have crispy shrimp for this keto shrimp recipe.
Error on the side of less cooking, not more: Shrimp cook really quickly. A total of slightly less than 3 minutes of total cooking time is about right. You need that amount of time to get a brown sear on the outside, but don't leave the shrimp in the skillet longer than a total of 3 minutes or they will overcook.
Choose the right sized shrimp: For this keto shrimp recipe I used jumbo prawns sized 21-25 which are good for presentation. The number 21-25/lb indicated 21 to 25 shrimp equate to one pound. You can choose to prepare your keto shrimp recipe with even larger prawns (smaller number) per your preference.