Soup with Cauliflower Stem and Leaves Recipe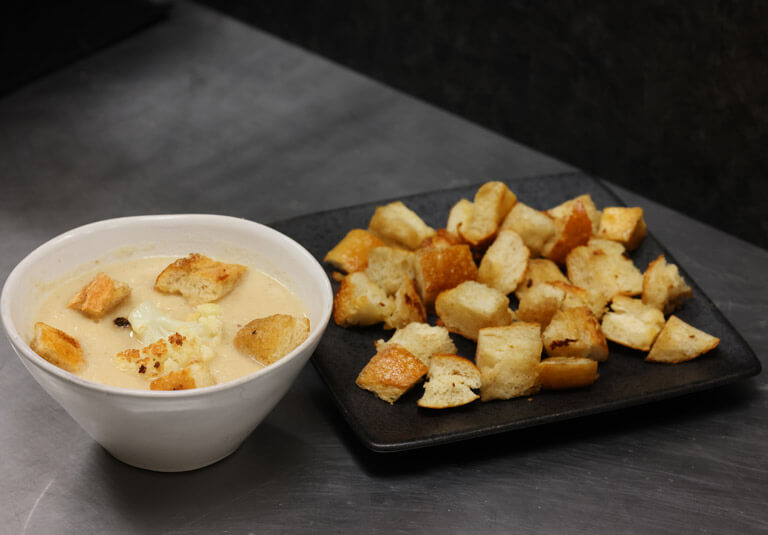 How to Use Cauliflower Stems and Leaves for a Delicious Cauliflower Soup in 5 Simple Steps.
Cauliflower Stem and Leaves Soup Recipe
What do I do with cauliflower stem and leaves? How can I use cauliflower stems in my cooking? These seem to be the IT questions. Roasted, breaded, fried, tossed in your favorite sauce and dipped in some creamy dressing, it's the perfect veggie for recreating our favorite fatty cheat foods like buffalo chicken, except with this super veg involved, you get fiber, antioxidants and loads of micronutrients. For using cauliflower steams and leaves in this cauliflower soup recipe we have roasted this cruciferous vegetable to reveal its richer side. With or without the cream, and a side of crutons, this cauliflower soup recipe is bold, rich and lush.
Equipment Needed for this Roasted Cauliflower Soup with Brown Butter Garlic Croutons:
Knife and cutting board

Medium sized roasting pan, sheet pan or other oven safe dish

Large saucepan

Large saute pan

Emersion blender
Ingredients Needed for this Roasted Cauliflower Soup with Brown Butter Garlic Croutons:
For the Roasted Cauliflower Soup:

1 large head of cauliflower, trimmed and cut into bit sized pieces

1 medium yellow onion, diced

2 cloves of garlic, smashed

2 tbsp Olive Oil

4 C chicken or vegetable stock

Salt and pepper

1/4 C of heavy cream (optional)

Pinch of freshly ground nutmeg

For the Brown Butter Garlic Croutons:

6 slices of leftover bread or half a loaf of your favorite crusty bread

1/4 C butter

2 cloves minced garlic

salt and pepper
Preparation of this Roasted Cauliflower Soup with Brown Butter Garlic Croutons:
Trim your cauliflower. Start by separating the head from the stem. Cut the head into florets and set aside. Trim the stem by removing any dark or off-color pieces. If the stem is large and woody, you can use a peeler to remove the tough parts and make it more tender. Slice the stem into chunks and add to the bowl of florets. Toss with olive oil, fresh cracked pepper, and a generous sprinkling of salt.

Roast the sliced cauliflower stems or leaves and florets by spreading them into your oven safe dish and roast for 10-15 minutes at 400-425, or pop in your air fryer and use according to your oven's instructions.

Simmer your stock by adding it to the pan over medium heat. Add the roasted cauliflower except for a few florets that you can set aside for garnish. Once the mixture comes to a rolling boil, allow to simmer for 10 minutes.

Blend your cauliflower stems and leaves after the soup has simmered. Remove from the heat and allow to cool for a few minutes. Once the mixture is a bit cooler, use your immersion blender to make the soup as velvety or chunky as you want. Simply immerse the blender head fully below the surface of the soup, press the start button gently, and blend.

Return the soup to your burner, add back the reserved florets and bring to a simmer again. Reheat, stirring constantly. Once the soup comes to temperature, remove from the heat, stir in the 1/4 C of cream if desired, and the freshly ground nutmeg.

Serve immediately topped with shredded cheese (a nutty swiss or gruyere is perfect for this flavor profile), extra fresh cracked pepper to your liking, and the croutons.