Quick and Easy Keto Cobb Salad Recipe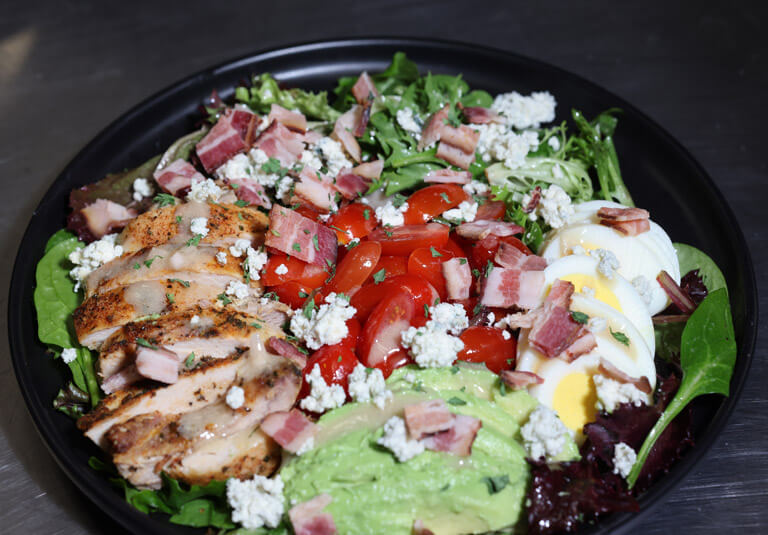 This Keto Cobb Salad is Low in Carbs but High In Healthy Fats.
Keto Cobb Salad Recipe
This quick and easy keto cobb salad recipe is a twist to the classic cobb salad that makes for a mouthwatering keto meal you won't want to miss. Usually, a Cobb salad is made with staple ingredients including hard-boiled egg, avocado, bacon, and even sliced mushrooms. In this preparation, we've included several sources of healthy fats to get your body into a state of ketosis – and stay there.
Equipment Needed for this Keto Cobb Salad Recipe:
Knife and cutting board

Large mixing bowl

Serving platter
Ingredients Needed for Keto Cobb Salad Recipe:
One 6 oz package of mixed greens or 1 head Romaine lettuce, washed, dried and chopped

1 cup of classic balsamic vinaigrette or use your favorite

1 grilled chicken breast or thigh, sliced

1 avocado, sliced

2 hard boiled eggs, sliced

1 C halved cherry or grape tomatoes

1/2 C bacon crumbles

1/2 C blue cheese crumbles
Preparation of this Keto Cobb Chopped Salad Recipe:
In the mixing bowl, toss the mixed greens with half of the vinaigrette. Arrange atop your platter, creating a canvas to feature the other chopped ingredients.

Rinse the tomatoes and allow to dry. Cut in halves and place in the mixing bowl. Toss with a bit more of the dressing. Create a line of tomatoes atop your greens.

Arrange the other ingredients atop the lettuce in rows.

Sprinkle with blue cheese crumbles, bacon bits, and almonds.
For a delicious keto meal salad topping you can opt for roasted almonds. Even though these are not traditional cobb salad ingredients they can be delicious topping for a keto cobb slad recipe.