Polish Sausage and Green Lentil Sautéed Stew Recipe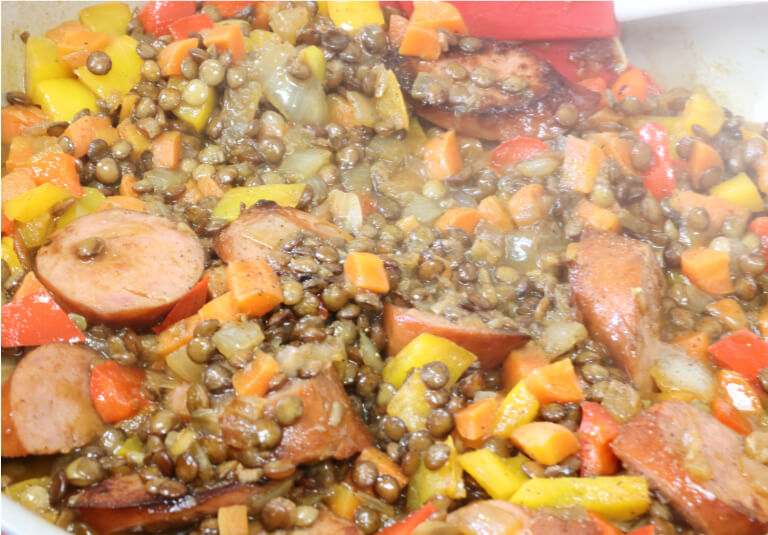 Polish Sausage and Green Lentil Stew
A wonderful way to expand your horizons in relation to what you cook and eat for dinner is to use full flavored meat items as a starting point for a healthier dish. For example, bacon is often cooked as a basis for dishes that have a bold flavor base, and other ingredients, like vegetables, grains or legumes, are the real stars of the show. As someone with Polish ancestry, kielbasa or Polish sausage was often the focus of one of my favorite meals as a child. In this dish, the sausage is a supporting character if you will, sliced and seared to impart flavor through releasing its juices, pork and or beef fat, and a wonderfully smoky essence. Lentils, an easy to cook legume loaded with protein, fiber, iron and other nutrients, make this recipe an excellent dish for nutrition and flavor. And since lentils are relatively quick and easy to prepare, they're an excellent addition to stews, soups, and offer a way to maximize use of other ingredients. Instead of a whole kielbasa link for this recipe you only need half, which results in saving money and cutting back on animal fats and sodium associated with cured meats. The humble lentil, this affordable and healthy legume is a friend not only to your budget, but to your body as well.
Tools Needed for this Polish Sausage and Green Lentil Stew:
cutting board

knife

spatula

saute pan or skillet

sauce pan
Ingredients for Polish Sausage and Green Lentil Stew:
1/2 link of Polish Sausage (Kielbasa)

1/2 C green lentils

Salt and pepper – 2 tsp salt plus more to taste

2 tbsp olive oil

1 tbsp tomato paste

2-3 cloves of garlic, minced

2 bay leaves

1 medium sized onion

1 bell pepper (Note: I had beautiful red and yellow peppers available so I've used 1/2 of each in this recipe)

1 1/4 C water
Cooking Instructions for Polish Sausage and Green Lentil Stew:
Mince the garlic.

Heat 1 tbsp of olive oil over medium high heat in a sauce pan. Add the minced garlic and sauté till fragrant. Add the tomato paste and bay leaves to the pan and cook for 1 minute.

Add the lentils, water and 1 tsp salt. Stir well to combine and bring to a boil. Simmer for 1/2 hour or until the lentils are tender.

While the lentils are cooking, chop the vegetables into a large dice (onions, carrots, bell peppers), and slice the kielbasa. Set aside.

Heat the sauté pan or skillet over medium heat. Add 1 tablespoon of olive oil. When the oil starts to shimmer, add the sausage slices. Brown on each side for 1-2 minutes. Remove from the pan and set aside.

Return the skillet to heat and add the minced onion and carrot. Sauté for 5-7 minutes or until the onion is wilted and starting to brown, and the carrots are nearly tender.

Add the diced peppers, stir and sauté for 5 minutes more. Lower the heat.

Drain the lentils and reserve the remaining cooking liquid.

Add the lentils and sausage to the sautéed vegetables and stir well to combine and bring to temperature.

Add as much of the reserved lentil cooking liquid as needed to help form a luscious sauce for the vegetables, lentils and sausage. Taste and season with salt and pepper to your liking.

Serve immediately as is for a hearty stew, or over rice, potatoes, or pasta.