How to Pan Sear Salmon Perfect in 10 Minutes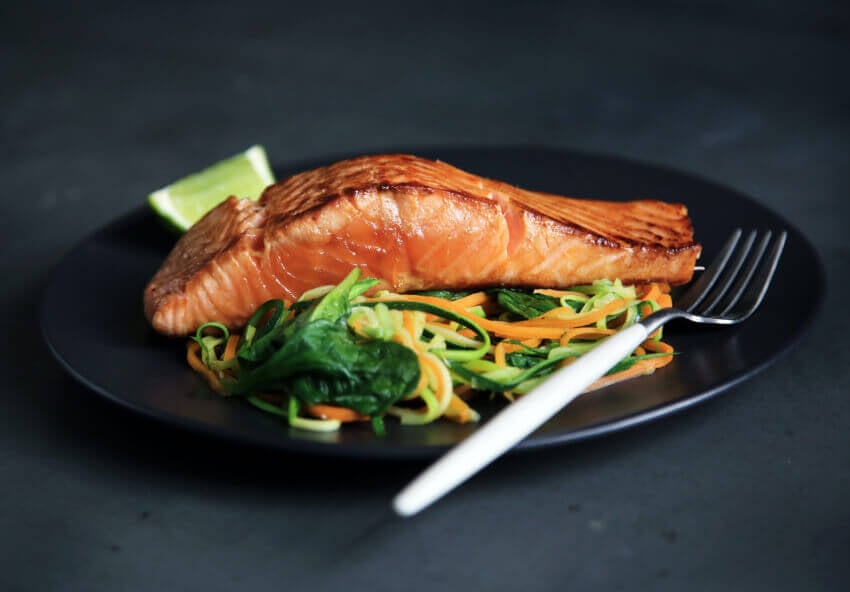 This pan-seared salmon is quick, easy, and delicious, making it a perfect weeknight meal. Removing the skin of the fish makes this quick and easy pan seared salmon recipe light and easier to digest while giving it a more uniform flavor profile. The lemon wedges add a bright and fresh flavor to the dish. Serve with your favorite sides, such as over a mixed greens salad or with a side of steamed brown rice, for a complete and satisfying salmon meal.
Pan Seared Salmon Ingredients
2 salmon loin* fillets, skin off (6-8 oz each)

1 tbsp olive oil

Rosemary

Parsley

Salt and pepper to taste

Lemon wedges, for serving
Pan Seared Salmon Cooking Instructions
Heat the olive oil in a cast-iron or thick skillet over medium-high heat. Cast iron skillets are ideal for a 10 minute pan seared salmon recipe since they retain and distribute heat much better.

Season the salmon fillets with salt and pepper on both sides. Then sprinkle some rosemary and parsley over the top of the salmon loin.

Once the oil is hot, place the salmon fillets in the skillet

Cook the salmon for 4-5 minutes on the skin side, until crispy and golden brown.

Use a spatula to gently flip the salmon fillets over and cook for an additional 2-3 minutes on the other side, or until the salmon is cooked to an internal temperature of 145 °F.

Remove the salmon from the skillet and serve with lemon wedges.
Pan Seared Salmon Flavor and Nutrition Profile
*Salmon loin is the part of the salmon above the belly and in the fillet (not the tail). This part stays moist and does not dry out as much as the tail of the fish. The salmon tail tends to be more dry and can be used when it is glazed in a teriyaki sauce or other kind of sauce.
This pan seared salmon recipe uses Atlantic salmon loin with savory herbs so it has a mild, delicate flavor that is not too fishy or overpowering, which makes it a versatile ingredient for different sides. If you opt for using Pacific salmon, it will have a slightly richer, meaty flavor.
In addition to the rich flavor salmon is rich in omega-3 fatty acids, which give it anti inflammatory properties, great for heart health and for people performing physical activity. It is like insurance for your body in addition to being delicious.
3oz of cooked Atlantic salmon contain ~118 calories and ~19g of protein, 0 g of carbs and ~4 g of fat.
Salmon is appropriate for many diet types including the Atkins diet, paleo diet, ketogenic diet, bodybuilding diet, weight loss diet, heart healthy diet due to its nutritional value.