Korean Bulgogi Marinade Recipe for Thinly Sliced Short Ribs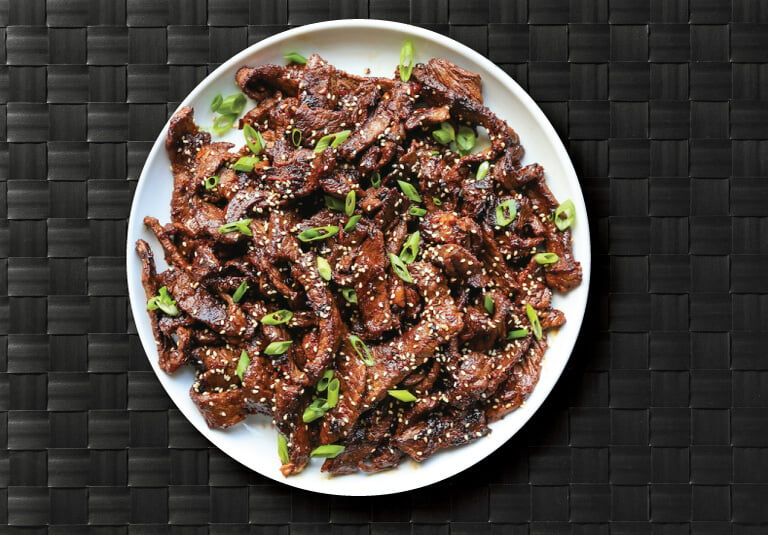 Bulgogi Marinade Is Frequently Found at Korean BBQ Served Over Thinly Sliced Short Ribs.
The Best Korean Bulgogi Marinade for Short Ribs Recipe
Bulgogi is a salty, sweet, savory and a little spicy marinade. Usually ti is done on a bone-in short rib that is sliced very thin. This type of marinade is not used as a braising liquid for braised short ribs but injects flavor into the short rib that will be grilled off to crispy perfection.
Korean Bulgogi Marinade Recipe Kitchen Tools
Blender

Chef knife

Plastic bag

Cutting board
Korean Bulgogi Marinade Recipe Ingredients
1 Asian pear** – peeled

Soy Sauce – 2 cups

Ginger – 2 tbsp

Brown Sugar – 0.5 cups

Garlic Granulated – 1tbsp

Chili flakes – 1/2 tsp

Scallions
Beef Bulgogi Marinade Cooking Video
In this video, Chef Justin goes over how to make the best beef bulgogi marinade. If you prefer to have the written version of this beef bulgogi marinade recipe please see the next section.
Korean Bulgogi Marinade Recipe Preparation Instructions
Create the Korean Bulgogi Marinade

Add the asian pear to the food processor or blender

Add 2 cups of soy sauce to the food processor

Blend the asian pear and soy sauce together to create a blend.

Now, add other ingredients including 0.5 cups of brown sugar, 2tbsp of ginger, 1tbsp of garlic, 1/2 tsp of chili flakes. Chili flakes add the spice to the marinade so for more or less spice adjust the amount of chili flakes you are adding with 1/2 a cup of sliced scallions or green onions.

Pulse your blender. Don't puree this too much since it is a marinade you will want the chunks to come off later.

Prepare the Meat

Add this Korean bulgogi marinade to your meat.

Make sure you cut the meat you choose across the grain. You want to cut the meat into slices that are nice and thin. quarter to half an inch.

Add the Korean Bulgogi Marinade to the Meat

Add the short rib strips to a bowl with the Korean beef bulgogi marinade on top. Just enough to cover. Then toss to make sure the marinade gets all over the meat.

Since the meat is thinly sliced you only need to let it rest for 4 hours or 8 hours on the high end*.
Put the Korean bulgogi marinated short ribs over a grill or in a very hot pan and enjoy accompanied by a side of steamed rice.
Notes about this Korean Bulgogi Marinade Recipe
*Since the meat is so thinly cut don't let it marinade overnight or it might get a little salty.
**The enzymes in the asian pear work as a tenderizer on the meat. Also, the sweet flavors are very nice. Since asian pear are not available year round Kiwi has the same properties and can be uses in their pace.