Keto Shrimp Recipe For Weight Loss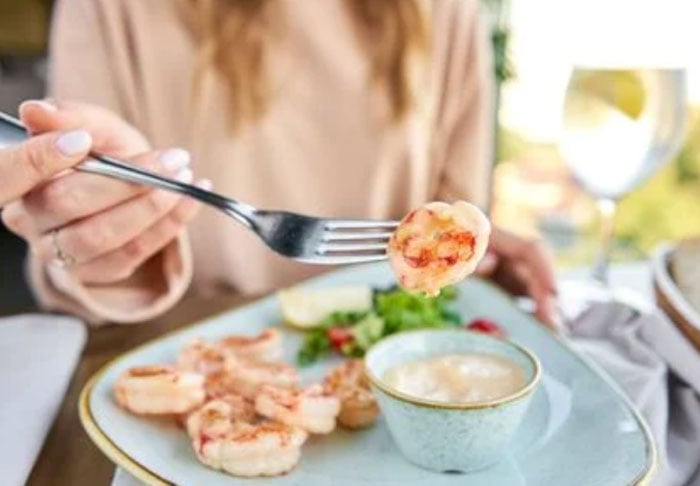 Kidney Shrimp Recipe For Weight Loss Overview
This keto meal is nutritionist developed to be high in healthy fats and low in carbs to get you to a state of ketosis. This keto shrimp recipe is also chef crafted to be delicious with herbs, zero-calorie seasonings. Start with jumbo prawns, caramelized brussel sprouts, roasted carrots and yellow bell peppers. This is a keto shrimp recipe for weight loss you won't want to miss.
Equipment needed for this recipe:
2 skillets

Spatula

Measuring cup

Spoons
Ingredients for this Keto shrimp recipe for weight loss:
3-4 shrimp per person (21/25 size).

5ml/1ts of salt

1 large carrot

1 yellow bell pepper

2 cups brussels sprouts halved

1 tablespoon Italian seasoning

Olive oil for the skillet

1/4 cup of walnuts
Keto shrimp recipe cooking Instructions
Heat a large skillet over medium/high heat with olive oil. Put the carrots in, season with Italian seasoning and cook until they begin to caramelize (turn brown a bit). Add the yellow bell pepper to the carrots and cook for another 4-5 minutes until the peppers are tender. Remove from skillet and hold.

In the same skillet, add a little olive oil and put the brussels sprouts in. Season and sauté until tender and browned on the outside.

In another skillet on medium heat, add olive oil, Italian seasoning and the shrimp. Cook on both sides until the shrimp are white in color and slightly pink. This only takes a couple minutes, so be careful to not overcook. TIP: You can squeeze a little lemon over everything to brighten it up if you like. Highly recommended for this dish, and most keto shrimp recipes for that matter!

Serve the shrimp with veggies and top with 1/4 cup of walnuts. Enjoy this nutritionist developed and chef crafted keto meal that is high in healthy fasts and low in carbs.