High Protein Fish & Chips Recipe For Bulking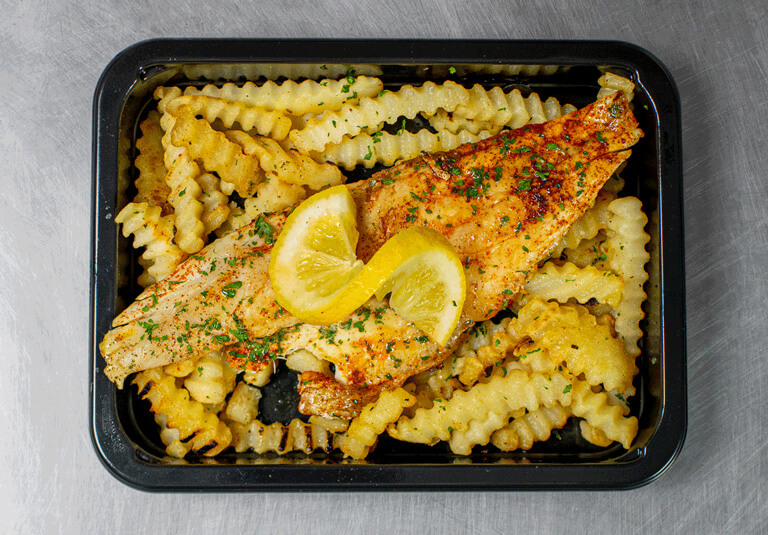 This High Protein Fish Recipe is Designed For Bulking
High Protein Fish & Chips Recipe For Bulking Overview
This bodybuilding fish recipe is a healthy twist to the classic fish n' chips we all know. As a high protein bodybuilding fish recipe, there is no breading and unhealthy fat normally associated with traditional fish n' chips (as wonderful as it can be). Pan seared tilapia is the white fish fillet used in this bodybuilding fish and chips recipe used in place of the deep fried battered fish. The same pan searing technique can be used for cod, halibut or any other fish. The tilapia fillet comes out with a wonderful earthy lemon zest flavor, and the red potatoes are healthful comfort food seasoned with a tasty blend of herbs perfect to fuel your workouts.
Aim for 1g of protein per lb of body weight when following a bodybuilding diet plan.
High Protein Fish & Chips Recipe For Bulking Ingredients
Ingredients for the fish:

2 tilapia fillets 5-7oz

1 tablespoon olive oil

1/4 stick butter

1/4 cup lemon juice

2 teaspoons sea salt

1 teaspoon garlic powder

1 teaspoon lemon pepper seasoning

1 teaspoon dried parsley

Roasted potato ingredients:

7-8 medium sized red potatoes cut into cubes

½ medium sized yellow onion cut into slivers (aka "feathered")

1 tablespoon olive oil

1 teaspoon Italian seasoning (3 parts oregano, 2 parts marjoram, 2 parts thyme, 1 part basil, 1 part rosemary, 1 part sage).
High Protein Fish and Chips Recipe For Bulking Instructions
Potato Cooking Instructions:

Heat a large skillet on medium high and add the butter and olive oil.

Cook until the butter foams a little and starts to turn brown (pic 1). Put the slivered onion in the pan, reduce heat to medium low and cook (pic 2). Cook until the onions start to caramelize – onions turn brown and are translucent (pic 3).

When the onions are caramelized (pic 4) add the potatoes (don't overload the skillet) and sprinkle Italian seasoning into the pan (pic 5). Use your own judgment on the amount, start with about 1 teaspoon and go from there. Increase heat back to medium and cook until potatoes are browned and tender. Mix the pan 3 or 4 times to cook all evenly. (pic 6) TIP: If you cover the pan for a few minutes it will help the potatoes become more tender.

High Protein Fish Recipe Cooking:

Heat a large skillet (medium heat) with the olive oil and butter in it.(pic 1) Cook the oils until the butter starts to foam and turn brown. (pic 2) Gently lay the fish into the skillet. Mix the spices in a small bowl or cup and sprinkle the mixture on the fish. (pic3 )

Cook until browned on the bottom. (pic 4) Gently turn the fish to cook on both sides. (pic 5)

When the fish is done, remove from the pan. Add a little lemon juice to the pan and mix well while the pan is still hot to use as a sauce over the fish.
Plate with some lemon wedges and enjoy this healthy, high protein fish and chips recipe for bulking. You can also serve with a mixed greens salad on the side.
Tired of cooking? Purchasing our premade bodybuilding meals on our website.