Bodybuilding Salmon Recipe For Bulking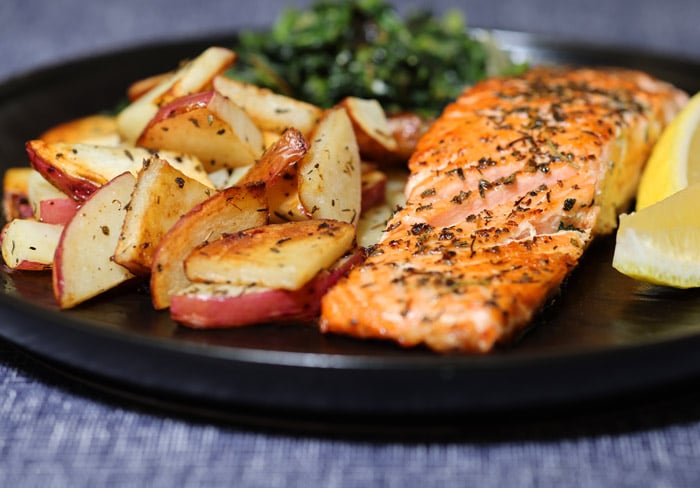 This is the Best Bodybuilding Salmon Recipe For Bulking. Salmon is Rich in Omega 3 Fatty Acids That Lubricate Your Joints While Weightlifting.
One Skillet Bodybuilding Salmon Recipe Overview
In addition to taking fish oil supplements for your joints this bodybuilding salmon recipe will provide your body with an additional natural source of fish oil for those heavy lifting days! This bodybuilding salmon recipe is infused with herbs and zero-salt seasonings this bodybuilding meal has great flavor and can be prepared in one skillet. Starting with a great piece of fresh salmon is a big part of a successful dish. Line caught and wild would be my recommendation, but I know that it can be hard to find and more expensive. The red potatoes and spinach finish this meal off with great taste and something you can be confident about putting in your body.
Equipment needed for this bodybuilding Salmon Recipe
Skillet

Cutting board

Kitchen Knife

Spoon
One Skillet bodybuilding Salmon recipe Ingredients
Fresh Salmon. 8oz for a fish bulking recipe. Use Wild-caught if you can find it.

1 teaspoon ground rosemary

Red potato – 15 or 20 small red potatoes diced for a bulking cycle.

Spinach – 3 cups frozen or 6 cups fresh

1 teaspoon whole rosemary (optional)

1 tablespoon olive oil for cooking
One Skillet bodybuilding Salmon Recipe for bulking Cooking Instructions
Heat a large skillet over medium/high heat with the olive oil. Put the diced potatoes in and season with a bit of the rosemary. Sauté the potatoes until they are tender and have good color. Remove the potatoes and set aside for a few minutes.

Season the salmon with the rosemary sprinkled on top (both sides if no skin).

Place the salmon in the same hot skillet, skin side down (if it has skin).

Turn the salmon over once to create some good color on top, but not necessary.

A a little water (just a tablespoon or 2) in the skillet and cover for about 5 minutes depending on thickness. This helps cook by steaming a bit.

When the salmon is close to done, slide it over in the pan and make room for the potatoes to come back in for a minute to get hot.

When the potatoes are just about hot, slide everything over and make room for the chopped spinach. Cover the pan and give it a minute or so for the spinach to get hot, then serve. Note: Fresh spinach is an awesome alternative, you'll just need to make sure you have room in the pan for a bunch. It will cook down. I like to pull it out and serve once it just begins to wilt.
Salmon is the best fish recipe for bulking since it is rich in omega-3 fats that lubricate your joints while you workout.
Bodybuilding Salmon Recipe with Potato Suggestions
Tip 1: You can use fresh rosemary if available, even better. Just remember dried herbs are a little more powerful by weight than fresh herbs, so with the fresh, you can use a little more.
Tip 2: TIP: Squeeze a little lemon over everything to brighten it up if you like. Highly recommended for this dish, and most bodybuilding diet meals for that matter!
Enjoy this mouthwatering bodybuilding salmon recipe that is delicious while also being high in protein and high in carb. You can also purchase this recipe as a prepackaged bodybuilding meal on our website.