Diabetic Pesto Chicken Recipe with Brown Rice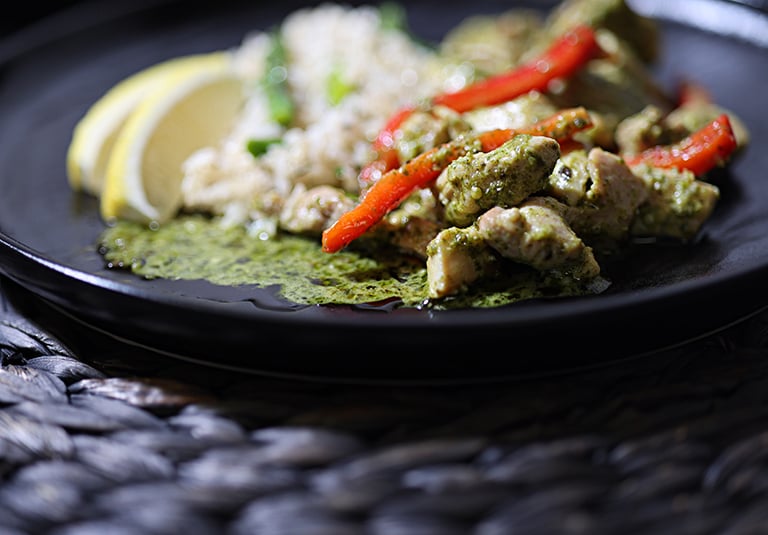 Diabetic Pesto Chicken Recipe Overview
This diabetic meal comes together in 2 skillets and incorporates the earthy richness of pesto and Italian seasonings with the fresh and sweet accent of red bell peppers. Paired with brown rice and asparagus spears, this tender diabetic chicken recipe is sure to make your mouth water, as well as give you the confidence you are controlling your blood sugar levels. This recipe is also good for pre-diabetic patients monitoring their pre diabetes glucose level.
Equipment needed for this diabetic chicken recipe with pesto
2 skillets

Spatula

Cutting board

Knife

Measuring cups
Ingredients for this diabetic chicken recipe with pesto
2 cups chicken strips (breast meat or thigh, your preference)

1 tablespoon Italian seasoning*

1/4 stick butter

3 tbsp pesto sauce

1 tablespoon olive oil

1/2 red bell pepper cut into strips

1 cup cooked brown rice (prepared your own way – rice cooker, stovetop…)

1/4 cup freshly grated parmesan cheese

1 cup fresh asparagus segments

*Italian seasoning blend and proportions: [3 parts oregano, 2 parts marjoram, 2 parts thyme, 1 part basil, 1 part rosemary, 1 part sage]
Diabetic chicken recipe with pesto cooking instructions
Diabetic chicken recipe cooking instructions:

Heat a large skillet with olive oil, butter and Italian seasoning. Cook until the butter begins to brown and foam. (1,2,3)

Put the chicken in the skillet and brown on all sides for about 6-7 minutes (4).

Add the pesto sauce and red bell pepper. (5,6)

Cover and cook on medium/low for 4-5 minutes until the peppers are tender and the chicken is cooked all the way through.

Diabetic chicken recipe brown rice instructions:

Prepare brown rice in a saucepan or make brown rice in a rice cooker and add to this recipe.

Diabetic chicken recipe asparagus spears cooking directions:

In the other skillet prepare your asparagus by adding butter and olive oil to the bottom of skillet (1) & (2).

Add the asparagus segments and sauté for a few minutes. The longer you cook, the more tender they will get. Cook to your preference. I prefer almost crunchy, so short cooking time for me.

When the asparagus is just right for you, add the cooked brown rice and mix to combine well, cook until hot.

Serve and enjoy this diabetic meal.