Daniel Gained Muscle and Lost Body Fat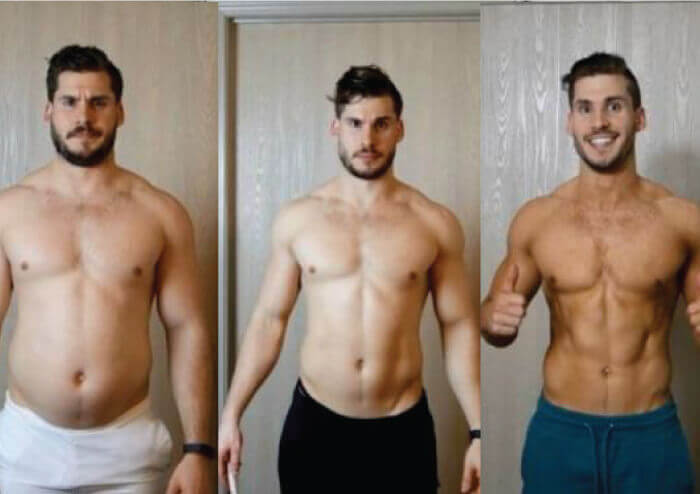 Daniel is a husband and father in Kent, Washington. He is is currently finishing his certification to be a personal trainer. Daniel spent a lot of his life with a vision of the person he was supposed to be. Like a lot of us, Daniel was focusing more on the destination, not the directions to get there. Until one day, he made the choice to start his journey and hasn't looked back since he got started on MealPro's personal wellness program through his online nutrition coach.
The Road to a Muscle Building Regiment and Goal
When we write down our goals they can be something like a wish list. But succeeding requires a plan and great execution. This desire to execute on my plan put me into the correct mindset for starting my weight loss journey paired with a muscle building workout regiment.
"A goal without a plan is just a wish. This is why having a MealPro nutrition coach was key to get me started on a plan to help turn my vision from a wish into reality. Thanks MealPro! "
"I've always been pretty active but now it's like an obsession and I need a plan to execute. This is where my nutrition coach come in.
The 75/25 Rule for Weight Loss
Once my nutrition coach gave me a workout routine and cardio routine that I could set my focus towards. Next, it was time to sort out my meal prepping needs. Even after my coach gave me a custom nutrition plan. Grocery shopping, and cooking was really challenging for me so, I enlisted the MealPro personal chef service for support. I spoke with a personal chef who explained but decided that after all, the custom meals is all I needed to build a winning game plan. Daniel was working on body recomposition to add muscle so sticking to a diet plan with all 13 essential vitamins was critical to give Daniel the nutrition his body needed to build muscle and provide energy. This is why a scientifically backed quintessential meal plan was critical to Daniel's success. "With the proper diet and nutrition you start to see results pretty quickly. My muscle meals from MealPro were delicious and knowing I was doing the right thing for my body kept me more motivated to work harder and get even more results."
Muscle Building Results
I was finding the nutrition I needed but not the time to prepare all of it consistently. A program can only succeed if it's stuck with and a lot of diets fail simply because our lives get in their way. "I was getting to the point where meal prepping was taking so much time and I was so busy between my family obligations and work that I couldn't commit that much time. Cooking three meals a day and feeding three mouths, that's a lot of cooking. The MealPro plan helps minimize that time considerably. My meal prep is more streamlined and makes it super easy."
Other companies just want you to buy what they already made – but at MealPro no two meals are the same!
My nutrition coach built a custom meal plan so I can build my own meals with precooked, pre portioned meal components with calculated macros that help me eat with precision and ease.
"You know exactly what's going in your meals down to the gram so you can make adjustments as necessary depending on the results you're seeing and how your body adapts to your diet."
Starting my journey and seeing muscle building and weight loss results introduced me to the person I had always wanted to see in the mirror.
Weight Loss Journey Success
Being able to track my progress is key for motivation. I worked with my nutrition coach to keep a log of body fat, and what I am eating. This way I can always go back to reference what I was doing during my successful spells and it's easier to stay focuses when you have a solid foundation and when you can revert back to good habits. A key to my weight loss journey was also to build more muscle – this way I would increase my basal metabolic rate. When this happens my body burns more calories while at rest and I think it was key to my weight loss journey. Right now I'm at about 13%-16% body fat but my goal is to be very vascular and get down to less than 10% body fat all year round. This motivation comes from my nutrition coach. Like anything, I know the best thing I can do to get there is keep tweaking my meal plan – since as I lose fat and gain muscle my calorie consumption is always evolving. Tweaking my nutrition as I go through my workouts is also key. As my body is acclimated to the rigorous exercise it is important for me to customize my meal plan for weight loss to increase protein content in my meals so I am always giving my body enough nutrient to grow during recovery.
I recommend starting anywhere with you weight loss journey and just keep track of your progress. It's always very motivational to remember how far you have come. It's not just my workouts that are keeping me consistent, it's also the regimented MealPro custom meal deliveries that give me control and allow gives me the confidence to know exactly how much I am eating.
Daniel's Foundation Meal Plan For Weight Loss & Muscle Building
6oz of protein (Prawns, Chicken, alaskan cod, or turmeric turkey)
6oz of carbs (Yam, red potato, brown rice or white rice)
6oz of vegetables ("Asparagus spears, spinach, bell peppers")
"I generally would eat this 3 times a day combining with a protein bar or a shake in-between meals. I frequently have a scoop of casein with milk to get a slow release of protein into my body and a total of 5-6 meals per day.
Daniel's Weight Loss Journey/Muscle Building Workout
"I usually train in split days and I have a tendency to use free weights or machines depending on who I train with. If I am solo and don't want to get injured then training with machines is totally fine. Probably my preferred method. "
Monday: Legs & Abs
Tuesday: Chest, Triceps, & Abs
Wednesday: Active recovery/rest (Abs routine, cardio)
Thursday: Back and Biceps
Friday: Shoulders, Abs
Saturday: Recovery/rest (Abs routine, cardio)

"I would use different supersets integrating cardio in with my routines to trim the fat faster depending on my daily composition tracking. If I noticed my fat percentage rise on any given day, I would run 2-3 miles instead of 1-2 miles as my cardio that day keeping my body in my target heart rate range. "Once the 6 weeks is up I go into a body weight high heart rate routine to really focus on building up my core and maintaining my overall physical strength, explosive movements, and cardio abilities."
My Weight Loss Journey Attitude
"There is no excuse for a lack of effort" – This is what always got into my workouts. Sometimes the hardest part is just getting started and and giving myself this pep talk was something that worked most of the time.

"Little pep talks like this are tricks that my nutrition coach taught me. It was little mind games I can play with myself to change my mental mindset, my mental toughness and allow the best version of myself to break through the bad habits." It helped to create consistency and gave me the mental edge that I needed to turn dreams into reality.

Of course, mental toughness only gets you so far and enlisting support whenever possible is a smart thing to do. For this reason MealPro's custom meals were key to my success. I even started using MealPro's a la-carte meals mixed in when they fit my macros. With good exercise and great nutrition Amazing things are possible! To get started with your weight loss journey or muscle building regiment – or both get in touch with one of our personal nutrition coaches today.