Affordable Pork Chops Bodybuilding Recipe for Bulking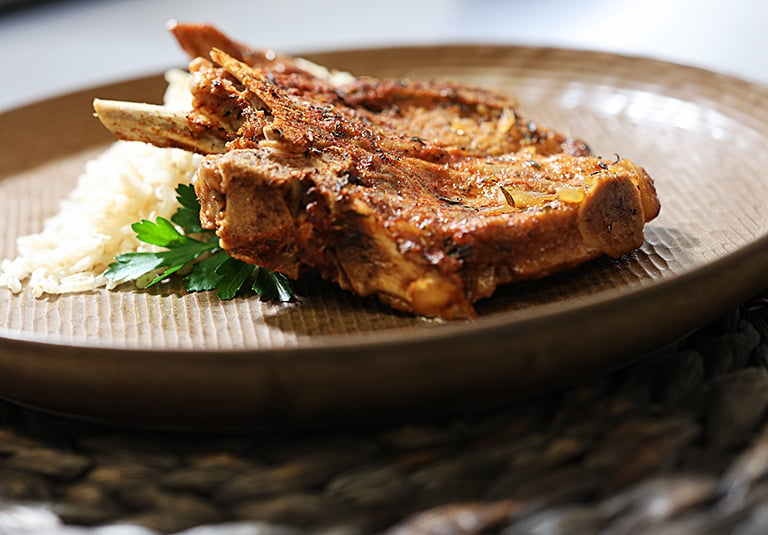 This affordable bodybuilding pork chops recipe uses an inexpensive type of meat but cooked right this pork chop can be a tender and delicious way to enjoy bulking season.
Affordable bodybuilding pork chops recipe for bulking
Pork chops make for an affordable bodybuilding meal while also being delicious and rich in protein. Packed full of earthy flavor, and fall-apart tenderness this affordable bodybuilding recipe idea for bulking can keep you on track to help your body build muscle during recovery.
Kitchen tools needed for this braised pork chops bodybuilding recipe for bulking
Skillet with lid (foil will work if you don't have a top).

Kitchen knife to chop the onion.

Measuring spoons optional.
One Skillet braised pork chops bodybuilding recipe for bulking ingredients
2 tablespoons olive oil

2 tablespoons butter

4 bone-in pork chops

1 tablespoon kosher salt

1 tablespoon dried thyme

3 tablespoons paprika

3 tablespoons brown sugar

1/2 cup diced onions

1 1/2 cups chicken broth

2 tablespoons malt vinegar
Braised pork chops bodybuilding recipe for bulking cooking instructions
Make the pork chops rub:

Mix: 1 part kosher salt, 1 part paprika, 1 part granulated garlic, 1 part brown sugar, 1 part rosemary.

Use this mixture to season the chops, as well as add to the braising liquid later.

1st Brown the chops for this pork chops bodybuilding bulking recipe

Coat the chops on both sides with the dry rub, rubbing and pressing the mixture into the surface of the chops.

Heat the olive oil and butter in a large heavy skillet over medium-high heat until the butter is melted.

Put the chops in the skillet and cook for 2 minutes each side. Once browned, remove the chops and set aside for a few minutes while you make the braising liquid.

2nd Make the braising liquid to use in our bodybuilding bulking recipe

In the same skillet, still on medium-high heat, put the diced onion in, cook for 1 minute, then add the chicken broth, vinegar, and 2 tablespoons of the dry rub.

3rd Braise the pork chops

Put the chops back into the pan with the liquid, turn heat to low simmer, cover the skillet with a tight-fitting top or foil sealed well.

This affordable bodybuilding meal recipe cooks for one hour on a low simmer.

To create a truly affordable bodybuilding pork chops recipe for bulking pair the braised chops with a complex carb like brown rice and a cup of broccoli. The braising liquid can be spooned on the chops as-is, or can be easily turned into a gravy.
In summary, this is a very affordable bodybuilding pork chops recipe for bulking since it uses an inexpensive cut of meat but is highly effective to build muscle during recovery. Enjoy this as a post-workout bodybuilding meal. If you do split training days like fasted cardio in the morning with a pm workout – enjoy this meal for lunch.
Tired of cooking? Purchasing our premade bodybuilding meals on our website.