Gastroenterologist Designed Crohn's Shrimp Recipe with Yams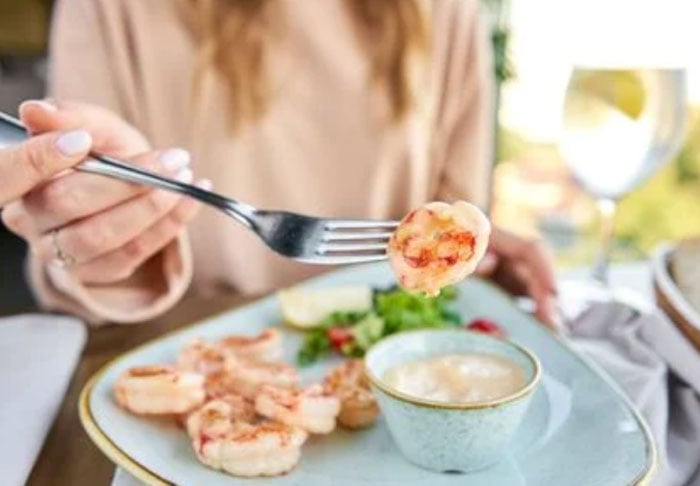 Gastroenterologist Guidelines for Crohn's Shrimp Recipe to Improve Gastrointestinal Health.
Gastroenterologist crohn's Shrimp Recipe For IBD
This crohn's meal is gastroenterologist developed to be anti-inflammatory, and is chef crafted with herbs, seasonings, and different flavor varieties to be delicious. Start with jumbo prawns, roasted carrots and yellow bell peppers. Couscous finishes the crohn's shrimp recipe off for a delicious anti-inflammatory crohn's meal.
Equipment needed for this recipe:
2 skillets

Spatula

Measuring cup

Spoons
Ingredients for this crohn's shrimp recipe for Inflammatory Bowel Disease:
3-4 shrimp per person (21/25 size).

5ml/1ts of salt

1 large carrot

1 yellow bell pepper

1 cup prepared couscous

1 cup unsalted chicken or vegetable stock (to prepare the couscous)

1 tablespoon Italian seasoning

Olive oil for the skillet
Gastroenterologist designed crohn's shrimp recipe cooking Instructions
Prepare couscous according to instructions on the package and set aside. TIP: Using unsalted chicken stock in place of water adds nice flavor.

Heat a large skillet over medium/high heat with olive oil. Put the carrots in, season with Italian seasoning and cook until they begin to caramelize (turn brown a bit). Add the yellow bell pepper to the carrots and cook for another 4-5 minutes until the peppers are tender. Remove from skillet and hold.

In another skillet on medium heat, add olive oil, Italian seasoning and the shrimp. Cook on both sides until the shrimp are white in color and slightly pink. This only takes a couple minutes, so be careful to not overcook. TIP: You can squeeze a little lemon over everything to brighten it up if you like. Highly recommended for this dish, and most renal diet meals for that matter!

Serve and enjoy this Gastroenterologist designed Crohn's shrimp recipe with couscous and veggies.
This recipe was chef written following gastroenterologist guidelines for Crohn's IBD disease and is designed to help prevent flares. An alternative to preparing this Crohn's shrimp recipe is to purchase our ready-made crohn's meals delivered. These meals are prepared limiting or excluding trigger ingredients.