Teriyaki Cod Recipe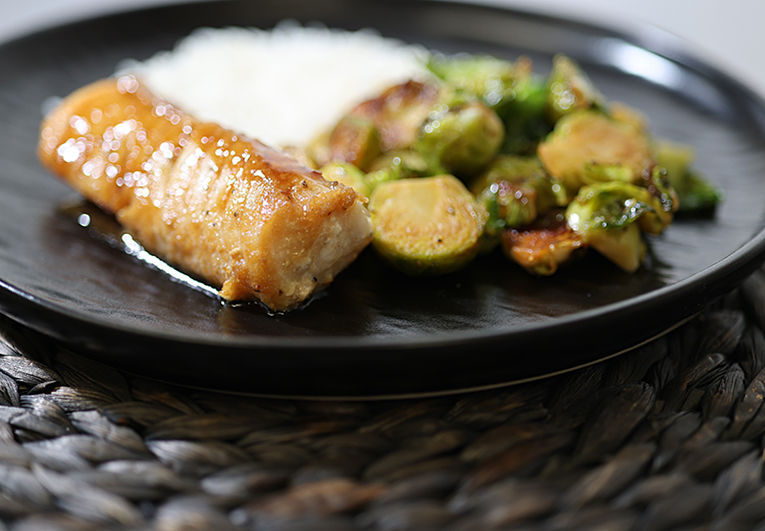 Teriyaki Cod Recipe
This recipe for cod is my absolute favorite. Cod can be a little boring all by itself, so I find that it helps to use sauces and sides that bring a bigger flavor profile. The sauce for this cod is a simple but really tasty sauce that would rival the high-end Asian restaurants. I serve this cod with long grain white rice and earthy brussels sprouts caramelized in brown butter.
Kitchen Tools Needed for this Teriyaki Cod Recipe
Large skillet

Small saucepan

Spatula or wooden spoon

Measuring cups

Measuring spoons
Teriyaki Cod Recipe Ingredients
Cod Recipe Teriyaki Sauce Ingredients:

½ cup sweet orange sauce (like Kikkoman Orange Sauce). Usually in the Asian sauces section at the grocery store.

½ cup soy sauce

¾ cup water

1 teaspoon granulated garlic

1 teaspoon dried ginger powder

2 tablespoons brown sugar

¼ teaspoon red pepper flakes

Ingredients to pan sear cod:

2 cod filets, about 4-6 ounces each

2 tablespoons olive oil

Salt and pepper to taste
Cod recipe cooking instruction
Firstly, make the sauce:

In a small saucepan over medium heat, combine all sauce ingredients. Stir to blend and cook until bubbling.

Lower the heat to low simmer to keep warm.

Secondly, pan-cook the cod:

In a large skillet over medium/high heat, add the olive oil and let it get hot.

Gently place the cod filets in the pan (dab the cod dry first so it doesn't spatter the oil)

Cook for about 4 minutes or until the bottom has started to turn golden brown.

Gently turn the filets over.

Drizzle the sauce onto the filets and let it fill the skillet with about ½ of liquid.

Let the cod simmer in the liquid for about 3 minutes. When it begins to flake, you'll know it's done.

Serve the cod with brussels sprouts and white rice. *See simple instructions to make the brussels sprouts below.

You can spoon some of the liquid from the pan over the cod if you like. (You will like!)

Thirdly, cook the brussel sprouts:

Heat a separate skillet over medium/high heat.

Add 1 tablespoon olive oil and 1/2 stick of butter. Cook until melted.

Add trimmed brussels sprouts (cut the base off then cut in half top to bottom).

Season the sprouts to taste with salt and pepper.

Add about 1/4 cup water and cover while cooking for about 3 minutes. (optional, this step makes a more tender sprout when done).

Remove the cover, turn the heat up and cook until the brussels sprouts begin to caramelize (turn brown).

For those who love bacon, cut 4 or 5 bacon strips into lardons (small diagonal strips), fry them until crispy. Add the olive oil and butter (a bit less now, because of the bacon fat) and proceed as described above.

To elevate this side dish even more, garnish with bleu cheese crumbles and drizzle a balsamic a vinegar reduction (syrup)!