Creamy Seafood Pasta Recipe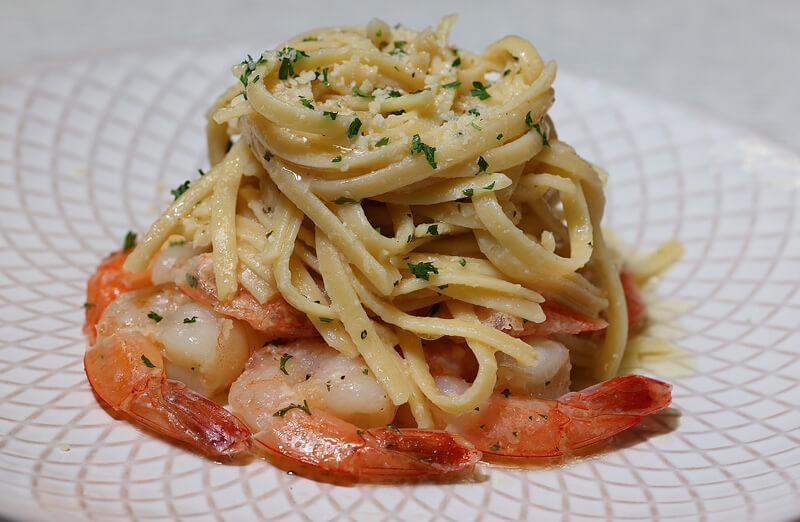 Table of Contents for this Easy Seafood Pasta Recipe:
Easy seafood pasta Recipe with Shrimp Overview
This creamy seafood pasta recipe is simple to make and absolutely delicious. Buttery garlic flavor with zesty fresh lemon and perfectly cooked shrimp make this linguine dish high on my list of my go-to pasta dishes.
Kitchen Tools For This Easy Classic seafood pasta Recipe:
Large skillet

Tongs

Pot to cook pasta

Small skillet to cook shrimp

Measuring cups

Measuring spoons
Classic seafood pasta Recipe Ingredients:
2 tablespoon olive oil

6 tablespoons butter

2 lb medium/large raw shrimp peeled and deveined. (Cooked frozen are just fine)

1/4 cup fresh parsley chopped
How To Cook seafood pasta step-by-step recipe
Begin by adding 1 pound of linguine pasta to a pot of salted boiling water.

While the pasta is cooking, add 2 tablespoons of olive oil and 6 tablespoons of butter to your skillet. Bring the heat to medium-high and start to brown the butter.

Add the shrimp to the skillet, lemon juice, seasonings and most of the parsley (hold some back for garnish).

Cook the shrimp for about 4 minutes or until they are slightly pink and white, turning once for good color on both sides.

When the pasta is ready (al-dente) transfer the pasta into the skillet using tongs. It's ok for it to be wet, but let it drain a bit after you pick it up.

Toss the shrimp, butter sauce from the pan and pasta a few times to mix well, let it cook a minute or two – then serve.

Optional: grate some fresh Parmesan-Reggiano cheese on top of the pasta.
Common Questions About This Classic seafood pasta Recipe with Shrimp
How do you store this quick and easy classic seafood pasta recipe? Store in an airtight container in the refrigerator for up to 5 days. Simply reheat over low heat on the stovetop, whisking constantly. You can freeze this easy seafood pasta recipe with shrimp in an airtight container for up to 3 months.