How to Cook Garbanzo Beans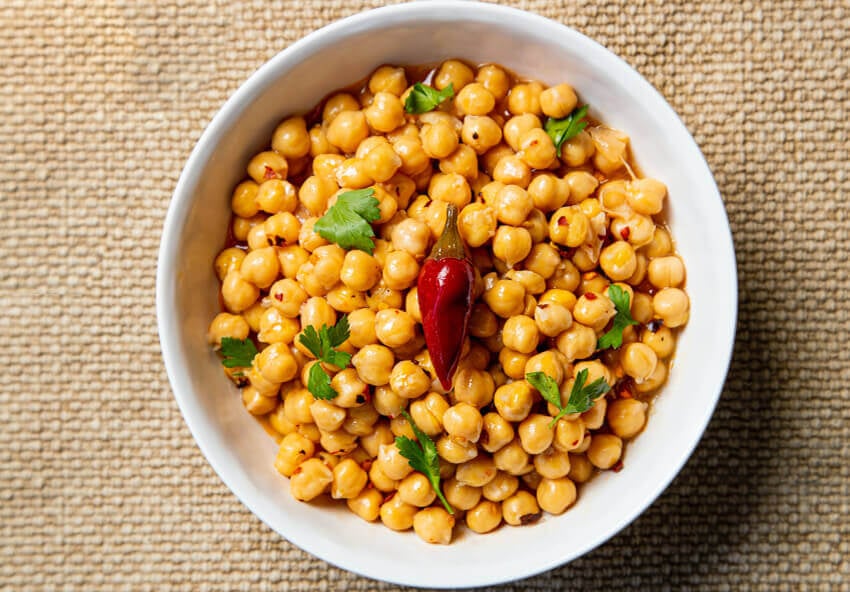 Garbanzo beans, also known as chickpeas, are a type of legume that have a nutty buttery flavor and creamy texture. Garbanzo beans are slightly harder to chew on than the soft, melt-in-your-mouth kidney or pinto bean – making it a perfect candidate for any bean salad since the texture adds a lot of variety to your plate. They are a good source of protein, fiber, and several essential vitamins and minerals, making them a nutritious addition to a healthy diet.
Kitchen Tools Needed to Cook Garbanzo Beans
Colander: To rinse the beans before cooking.

Large Pot: To cook the beans. A 4-6 quart pot is ideal.

Wooden Spoon: To stir the beans while cooking.

Strainer or Slotted Spoon: To remove the beans from the pot once they are cooked.

Blender or Food Processor (Optional): To make hummus or other bean-based dips.
Garbanzo Beans Recipe Ingredients
Garbanzo beans – dry

Salted Water or vegetable broth:Use enough water or vegetable broth to cover the beans by at least two inches

Garlic and Onion (Optional): To add flavor to the beans.

Salt (Optional): To add flavor to the beans.

Herbs and Spices (Optional): To add flavor to the beans.
How to Cook Garbanzo Bens Step-by-Step Instructions
Rinse the beans under running water and clean thoroughly.

Add the garbanzo beans to a bowl of water and allow them to soak. Soak for at least 4 hours or overnight.

Cook the beans: Place the beans in a pot and cover with salted water (about 2 inches above the level of the beans). Bring the salted water to a boil, then reduce the heat to low and simmer until the beans are tender, which can take anywhere from 30 minutes to 2 hours depending on the texture you prefer your beans at.

Add the salt, herbs, spices, vegetables, or meat to flavor the beans.

Once the garbanzo beans are cooked to your desired tenderness, drain any excess liquid and serve hot. You can also store cooked garbanzo beans in an airtight container in the refrigerator for up to 5 days or freeze for later use.
Tips for cooking garbanzo beans
Use enough water: When cooking beans, it's important to use enough water to ensure they cook evenly and don't become dry or tough. A good rule of thumb is to use three cups of water for every cup of dry beans.

Check for doneness: The cooking time for beans can vary depending on the type of bean and how old they are. Check for doneness by tasting a few beans to make sure they are tender and cooked through.

Store garbanzo bean leftovers properly: Cooked beans can be stored in the refrigerator for up to a week or in the freezer for up to six months. Be sure to store them in an airtight container.
Garbanzo beans nutrition facts
Garbanzo beans are a good source of plant-based protein, fiber, and essential minerals such as iron, magnesium, and potassium. They are also rich in folate and vitamin C. Additionally, they are low in sodium and have a low glycemic index, which means they can help regulate blood sugar levels. The American Diabetes Association recommends chickpeas for diabetes patients as its high fibre content is associated with reduced blood blood sugar levels. One cup (164 grams) of cooked garbanzo beans, also known as chickpeas, contains approximately:
Calories: 269

Protein: 15 grams

Carbohydrates: 45 grams

Potassium: 477 milligrams (Avoid on a renal diet)

Iron: 4.7 milligrams

Phosphorus: 276 milligrams (Avoid on a renal diet)
This legume is a significant source of protein, which also makes it an ideal food for a diabetics diet.