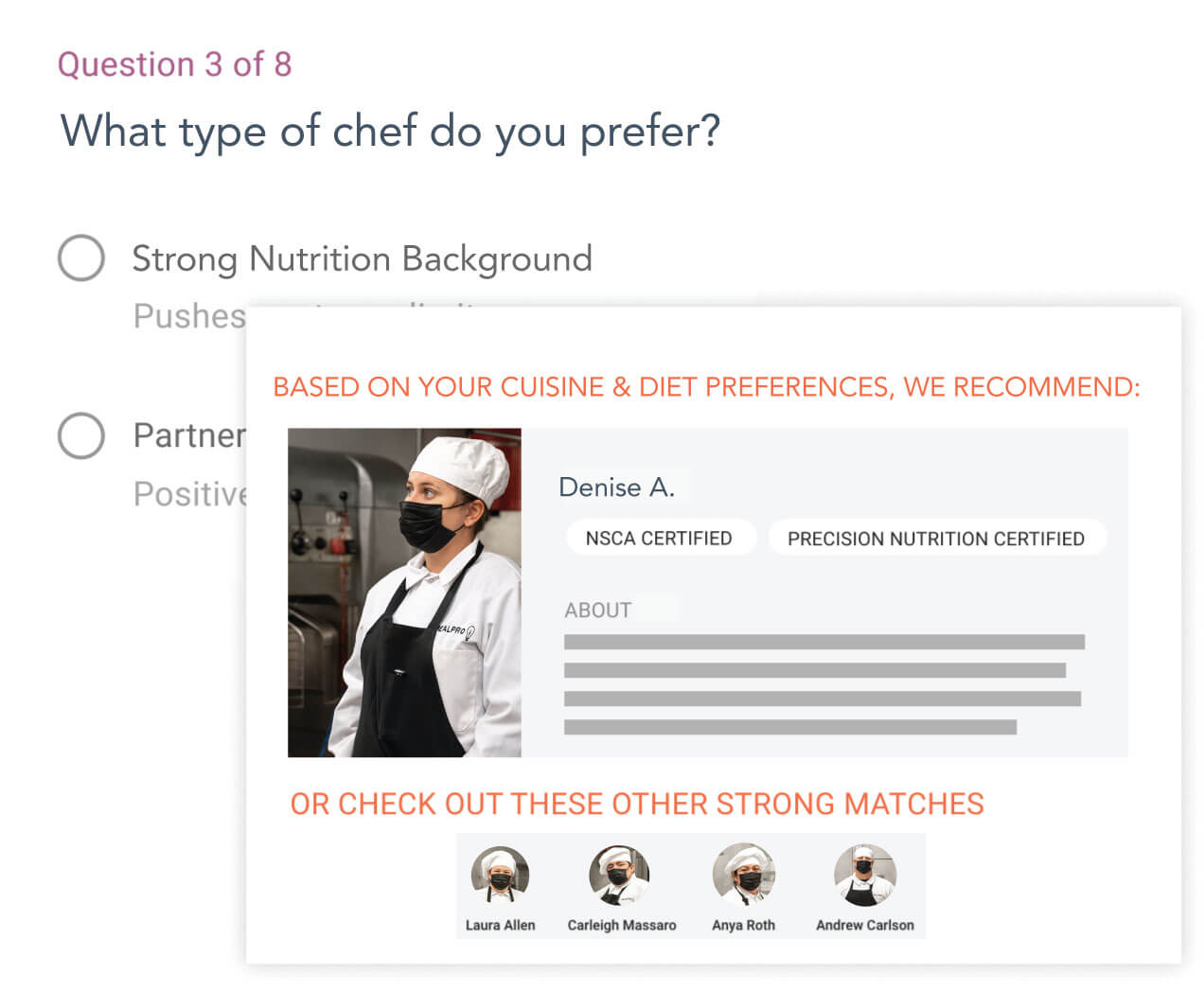 1. Sign up online for our athlete personal chef service.
Sign up through this website. You can choose to start with one month or three months or extend the contract with your perfmance chef longer.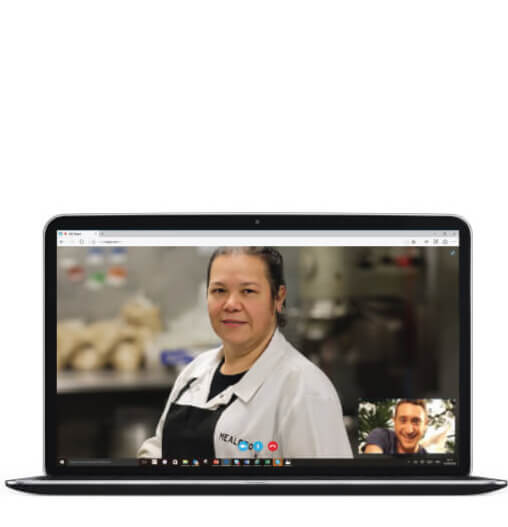 2. Connect with a fully vetted personal athlete chef.
Call, chat or meet with your performance chef to align on diet type, and food preferences. Set up your chef to build the perfect meal plan.
3. Your athelte chef cooks you the perfect meal plan.
Your personal chef builds each meal plan specifically for you to fuel your performance and help you recover from your workouts.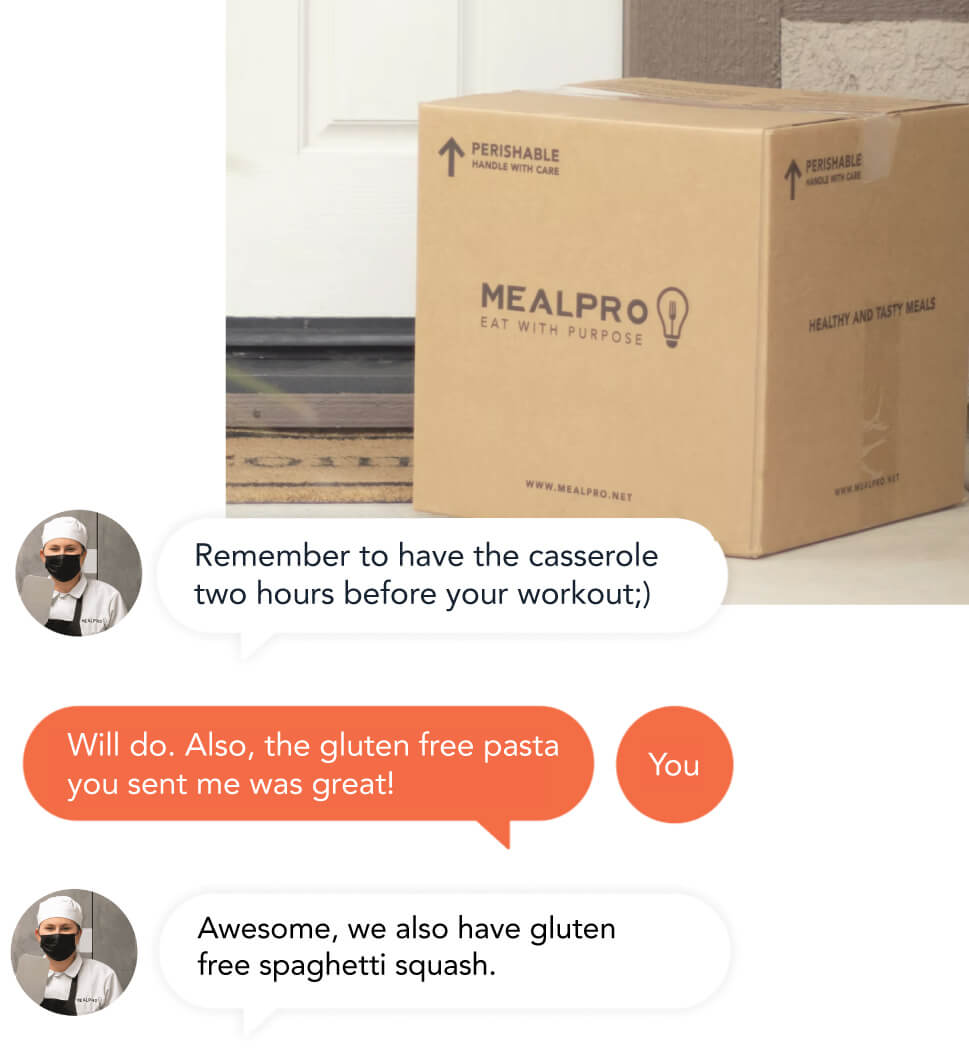 4. You can hire your athlete chef or use part-time.
MealPro's athlete chefs work in the fully license MealPro kitchen and deliver your meals - or they visit you on-stie.
---
Mee Some of Our Private Chefs For Athletes
MealPro is a trusted performance chef solution that provides private chefs for athletes. We provide you the best capabilities and expert athlete chefs you can trust. Our culinary staff is fully vetted and is flexible to accommodate your needs. Our fully vetted athlete chefs travel with you, work part-time for you or they deliver you custom meals after preparing them in the MealPro fully certified kitchen. Treat yourself and allow a personal chef to conjure up your ideal meal plan to fuel performance and recovery.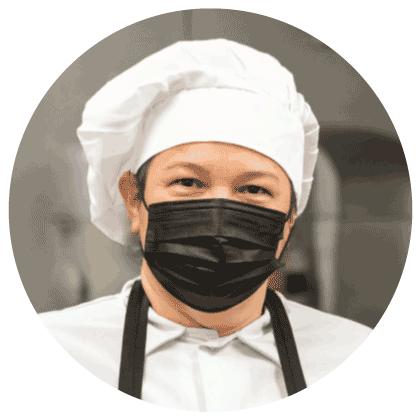 1. CHEF NATI
Born in El Salvador, Chef Nati studied hospitality management with a focus on the culinary arts. Building upon his training and honing his craft, Chef Romero has worked in New York with Chef Luis Bollo of Meigas and at the Hyatt Hotel, as well as at Meson Galicia in Connecticut. He has also spent time training in Spain.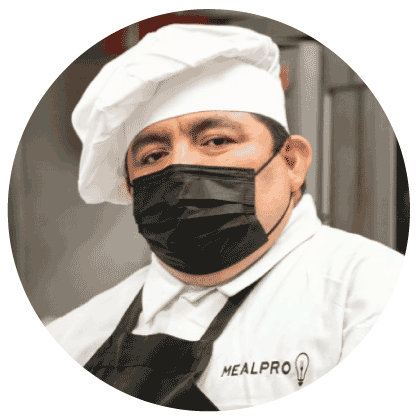 2. CHEF
ROBERTO
Chef Roberto's culinary career began early on, inspired by his Southern Italian parents and their love and respect for quality and tradition. Roberto's culinary repertoire flourished during a sting as Chef de Partie at the 5-diamond Four Sesons Hotel, where he developed and refined his culinary techniques. He proceeded to the renown restaurant at the Hotel Oriente in Italy. It was there where he extended his skills before returning to the United States. He worked in Northern CA where he appreciated the use of Asian and progressive American cooking techniques.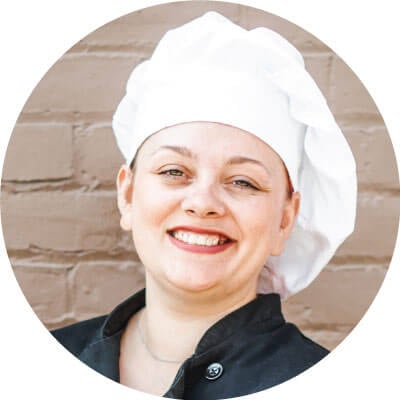 3.
CHEF

CINDY

With a personal mission to spread the good name of nutrition through mouthwatering recipes, Chef Cindy's philosophy around nutrition is deeply rooted in food as medicine. In the kitchen, she offers a conscious, restorative, and functional approach to cooking; an approach she has cultivated during her years working in farm-to-table restaurants.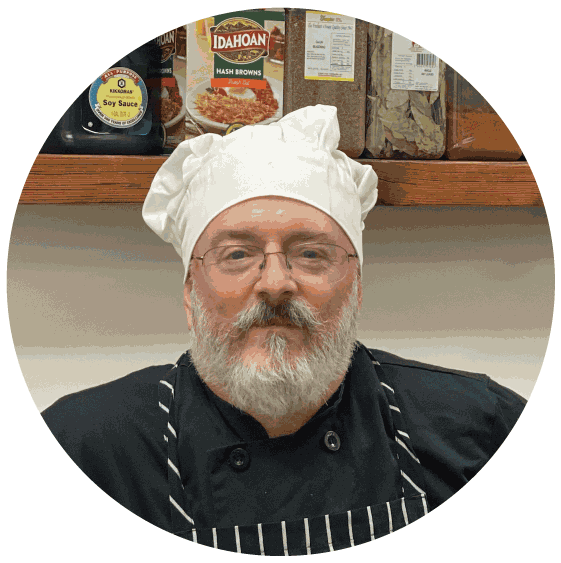 4. CHEF
RANDY
After graduating from LeCordon Bleu at the top of his class Chef Randy dove head-first into a culinary career working in many top-tier restaurants including the Golden 1 Center Arena as a lead cook. He later owned and operated a mobile woodfired pizza concept where he championed whole and natural ingredients. Chef Randy is passionate about healthy food and developing relationships with local providers for true farm-to-fork food production.
MealPro is Fueling the World's Top Athletes
From pro tennis player and Wimbledon Quarterfinalist Jenson Brooksby to Greenbay Packer NFL tight end Josiah Deguara MealPro fuels atheltes at the top levels.

If you are a professional or emerging athlete wanting to get the proper nutrition which is crucial to reaching your goals. Cooking a menu that provides balanced nutrition can feel like a huge undertaking. This is why our athlete chefs meal delivery service makes sure you get the best nutrition possible.
Get the Edge. See our Plans >>
Who is this Athlete Chef Service For?
Our private chefs for athletes work with you during your off-season or year round! We also have a traveling persal chef service for teams! This private chef service for athletes is is perfect for you:
Sports teams or olympic teams that need a personal chef or team of personal chefs to travel with the team.
Individual athletes that want part-time, or off-season personal chefs.
Athletes who want a year-round personal chef that cooks in their kitchen.
Athletes who are emerging and need a part-time athlete chef to deliver home-cooked delicious and custom meals.
You don't settle for a standard meal - you expect the portion sizes and nutrition in your meal to be adjusted to you.
You refuse to eat bland diet foods. You expect your food to taste delicious, be affordable, and be healthy for you.
---
Private Athlete Chef Services
Our athlete chef plans range from only off-season, or year-round chefs. We can even recommend / rotate your athlete chef every couple months depending on your location or other needs. Please contact us for an enteprise level athelte chef plan. To get started please select from one of the two personal chef service for athletes packages below: