How Our Healthy custom Meal Delivery Service Works
Fuel your goals with with custom meals made with deliciously real ingredients. From purveying quality ingredients to cooking, and tracking your food's nutritional value, MealPro makes the entire process easier and more enjoyable. You don't have to sacrifice convenience when eating clean. Enjoy home delivery when you stock up on custom meals. Safe no-touch delivery.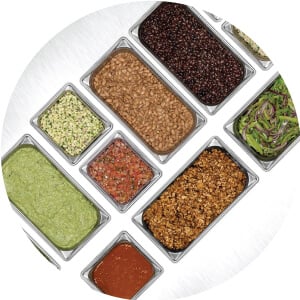 1. Build your meal choosing from a list of ingredients.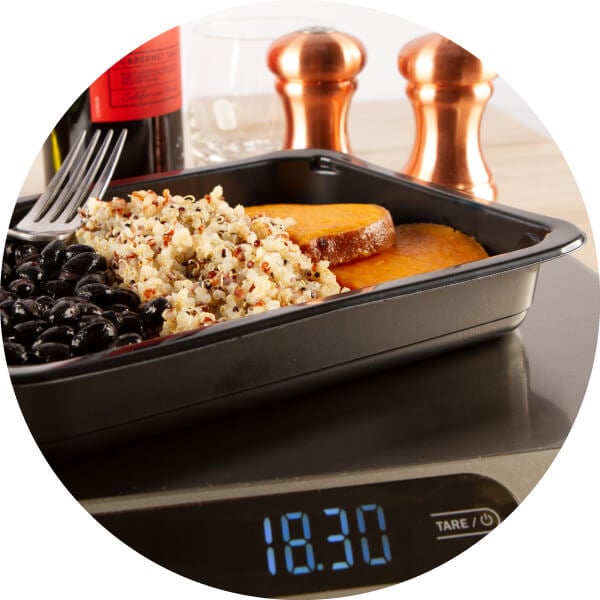 2. We carefully portion your meal to your specifications.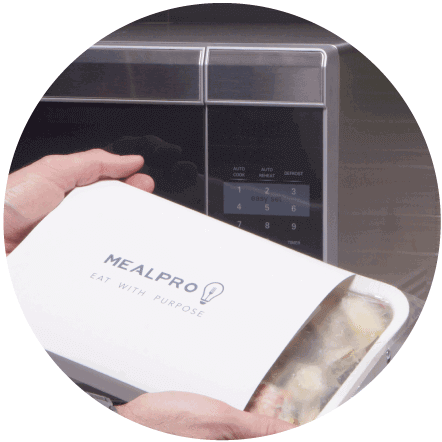 3. Your macro-perfect meals are delivered. Heat and enjoy.
---
Healthy custom Meals Delivered
custom meal delivery made easy. With MealPro, you dine on mouthwatering custom meals made to your specifications. Build your macro-optimized meal plan that supports your nutrition goals using our meal builder. We offer many different ingredients for you to choose from. You can combine the ingredients in any way you like to make your own meal and meal plan.
You can build your meal from scratch, purchase ingredients by the pound or you can customize one of the meals from the menu to suit your needs. We have many options at affordable prices and this service is flexible so you can have optimal nutrition at great prices.

Already Cooked - No Water Weight

On our website, everything is listed in cooked food weight. When you purchase 1lb of chicken that is 1lb of cooked, boneless and skinless chicken - no water weight. Every day, our chefs take great care in the preparation of your ingredients - the chefs chop vegetables, and prepare all the meats starting with high quality, fresh ingredients use cooking techniques that optimize nutrient retention. On the protein side, the chefs use marinades to keep your meats tender while also adding zero calorie seasonings for a tasty savory flavor profile.

Carefully Portioned for You

Everything is portioned using cooked food weight values. [Example: a meal with eight ounces of chicken would mean after being trimmed and cooked - eight ounces of chicken are being portioned in the food container for you]. All your healthy custom meal ingredients are served in microwave safe meal prep containers. This means you receive a completely custom diet plan with your ideal macros that is effortlessly served. Simply re-heat in a few minutes.

Fresh and All Natural Ingredients

Your vegetables are sourced directly from the farm (nutritional value is highest when the vegetables are picked and gradually decreases with time) and are so fresh they are high in nutrients like fiber for digestive healthy. Fiber will also keep you feeling full for longer and will prevent those mid-day cravings. On the protein side, your meats are 90% lean or greater, so you get more protein per calorie.
---
Customize Meal Menu Option
Most flexible option. Build your meal totally from scratch using the meal builder. Choose your protein, sides and veggies and choose the quantities of each. As you make your selection you will notice the nutrition count in your meal adjusts in real time. You can use this method to make your meal as nutritionally optimal for you as you can.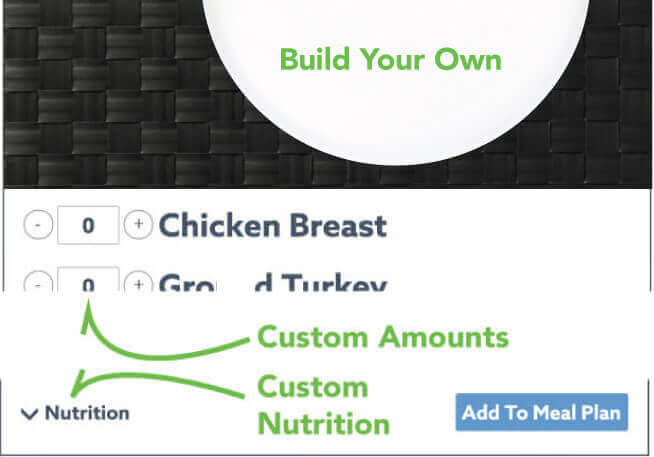 A-La-Carte Menu Options
Start with an existing menu option and make some changes to it. You can do extra protein, remove carbs, or add extra carbs until your nutrition is where you would like it. This is a more affordable option for you to get close to ideal nutrition.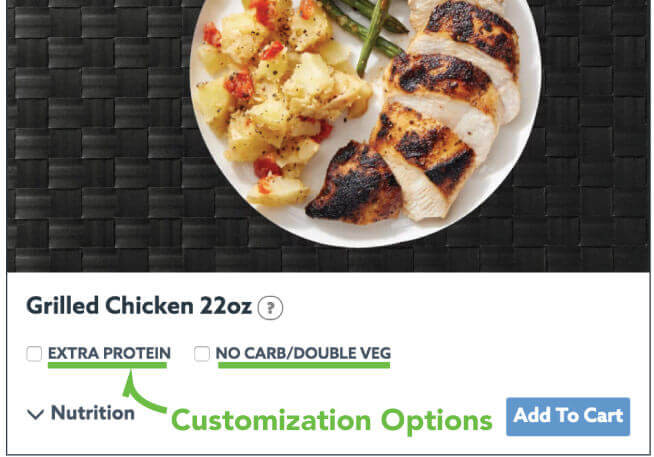 Bulk Food Menu Options
Supplement your healthy custom meal prep by getting food by the pound. You can combine your pounds in any way you want or, if you have an existing meal prep regiment you can use these to supplement your eating regiment.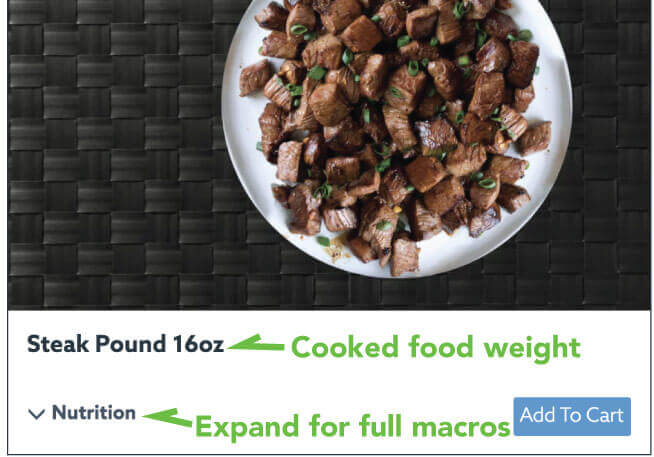 ---
More About Your Ingredients
Get healthy custom meals delivered. At our company, our main goal is to make you feel like the best version of yourself and transform your nutritional life, without the hassle of cooking. Here is how we go about sourcing and preparing the best ingredients:
Fresh Ingredients: We start by sourcing high-quality produce. Whole foods are naturally nutrient-dense, meaning they're packed with all the vitamins & minerals you need without excess calories or artificial ingredients. Think fresh veggies, low glycemic vegetables, high fiber legumes and protein-packed cuts of meat. Your meats are 90% lean or greater, so you get more protein per calorie. You'll recognize every ingredient on the label. Each tasty meal is nutritionally-designed to support a healthy, active lifestyle. Chia seeds and ancient grains, These are just some of the incredible, phytonutrient-rich superfoods we use to supercharge your meals and your performance.
Prepared for Nutrient Retention: Some methods of cooking destroy nutrients instead of preserving them. At MealPro, our culinary experts are trained and have equipment to steam vegetables to make sure they maintain their nutritional value.
Zero calorie herbs and spices: To make your meals tasty and prevent diet burnout our professional chefs infuse their dishes with fresh herbs & spices which are packed with inflammation-fighting, immunity-boosting antioxidants. Just genuine ingredients and their natural detectable flavors to make your custom meals delivered.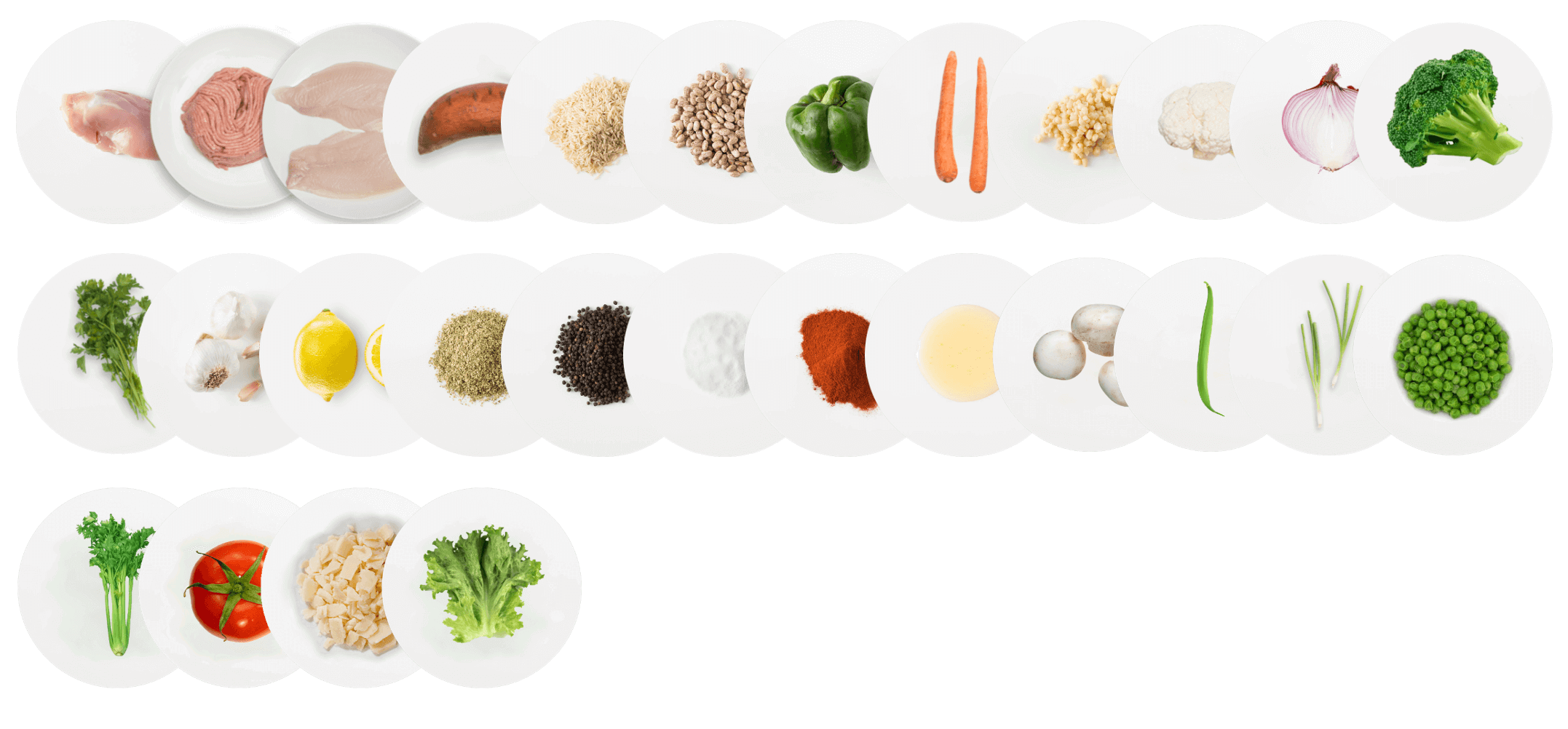 Ingredients are "as close to their natural state as possible".
---
custom Diet Plans Delivered to Your Door
Delivered to your home or work Select whether you'd like your delicious chef-prepared meals shipped to your home or dropped off at the office. You choose, we deliver.
Ready in 5 min Your already-made meals are perfect for you to grab-and-go if you're short on time, or to dine in and savor from the comfort of your own home.
Nationwide delivery You'll get your fully prepared custom meals delivered fresh to your door during business hours, and the great news is that you don't have to be home to accept the delivery. And don't worry – your box is insulated with a special thermal liner and dry ice so your meals stay at temperature. When you get your healthy meal box, all you have to do is place your pre-made meals in the refrigerator and put your packaging in the recycling bin.
Thermal liner for optimal temperature retention
Meals securely packaged to be leak proof
Dry ice to keep your meals chilled
100% recycled cardboard box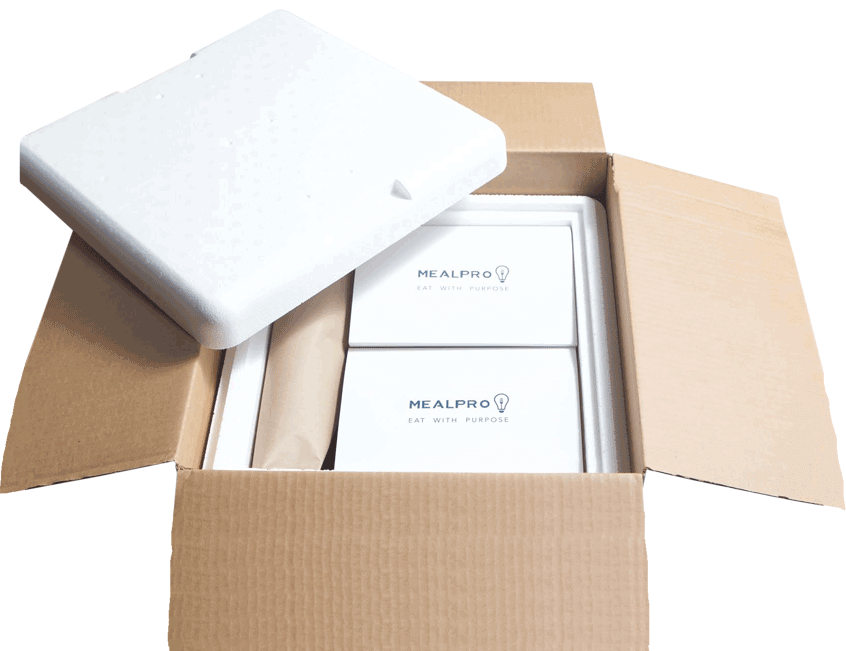 Your meals are delivered nationwide in a thermal box that use special packaging to keep your meals completely fresh.
---
Stay on Track With Healthy Meal Plan Deliveries
By default, every order is a one time order. If you wish, you can sign up for recurring orders inside of your account. You will be emailed your account login instructions after your first purchase.
On your first purchase, you will be emailed instructions to login to your account. Your MealPro account is a place where you can track your order, update your food preferences, and you can manage every aspect of your custom meal delivery.
If you choose to opt-in for recurring orders inside of your account you earn many benefits. Regimented deliveries, and you also start earning rewards points that you can redeem for free meals. When you receive your food delivery box, simply place your ready-to-eat meals directly in the refrigerator. When you are hungry, just heat and enjoy! The dishes will stay fresh in the refrigerator for up to 7 days, but always check the "Best By" date.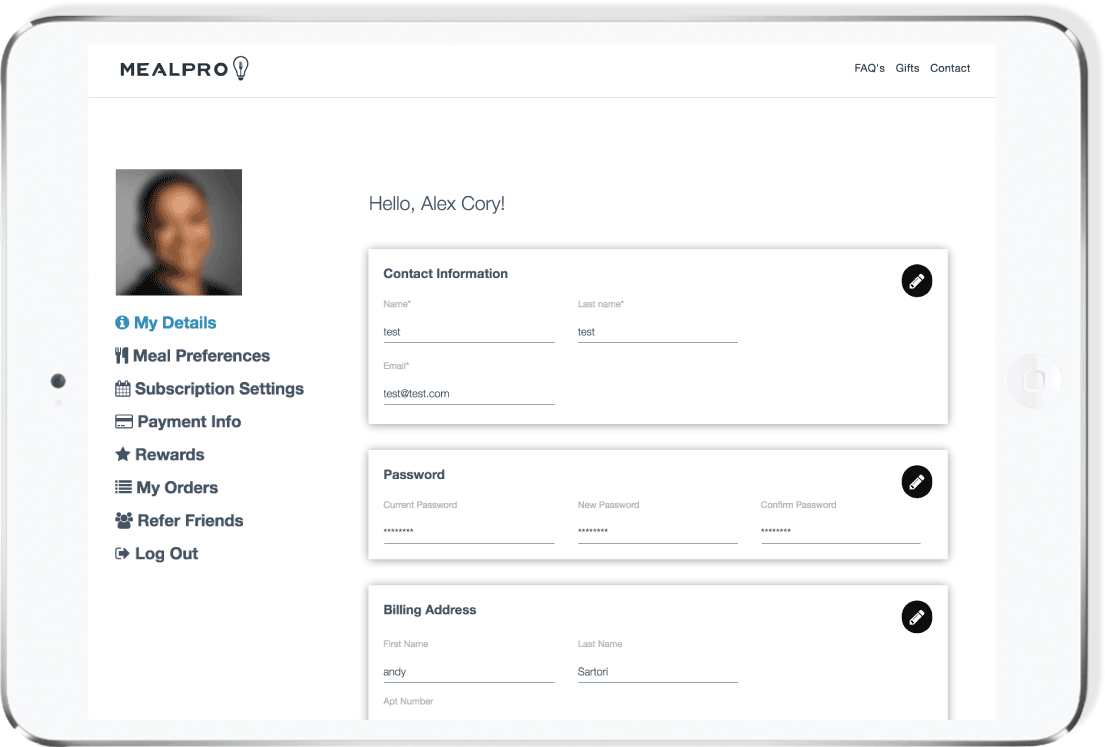 Track orders, update your address and do much more with your MealPro account.
---
Who Is This Healthy custom Diet Plan Delivery Service For?
Your tasty custom meals are made using only the highest quality ingredients and are prepared fresh daily. The combination of nutritional science and artisan culinary techniques makes MealPro one of the best meal delivery services for when you are too busy to cook. This custom meal delivery company is perfect for you if:
You don't settle for a standard meal - you expect the portion sizes and nutrition in your meal to be adjusted to you.
You are a clean eater dedicated to wholesome foods - or want to be.
You want to get back in shape and need a healthy custom food plan that supports you.
You have a demanding schedule and you have no time to shop, cook and portion your meals.
You refuse to eat bland diet food at high prices. You expect your food to taste delicious, be affordable, and be healthy for you.
---
Why Choose This Tasty custom Diet Plan Service?
Save time
No more waiting in line at the grocery store, or driving to get take out. MealPro's custom food prep service serves healthy food that is tasty and is actually good for you. All without the fuss of cooking.
Green and sustainable
All packaging is BPA free and delivered in 100% recycled cardboard boxes. Also, we offset all of our carbon emissions to renewable energy projects around the world. Be a part of supporting a cleaner, greener future.
---
Reviews of this healthy custom Meal Company

Good price and nutrient value
"Best prices and nutritional value. Every time I look down at my meal there's great nutritional value. I'm always happy about taking a bite."
- Jaime, Account Manager

Easy food delivery!
"I love that it's so customizable. For me, this is ideal! It allows me to stay on track and I always look forward to my next meal so it's food as it should be."
- Lindsey, Health Care

Super convenient and tasty
"I love not having to go to the grocery store. Also, I like the flexibility of having my healthy food to go. The meals taste fresh and are delicious."
- Alex, Law Enforcement
---
Get started today with your delicious custom diet plan delivery service. Immediately save time on grocery shopping, prepping and cooking. Enjoy tasty and affordable custom food delivered to your door!