20 Best Healthy Meal Delivery Services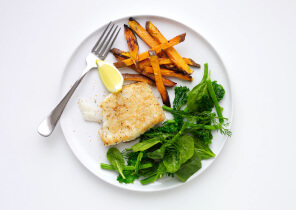 Face it, the last thing you'll definitely want to do after a hard day of work is to jump merrily into a kitchen and whip up a gourmet dinner. Heck, by this time, I'd be rushing towards the nearest Popeyes or In-N-Out looking for something satisfying to eat.
But the problem with that logic is that you can't just skip over to Popeyes or In-N-Out whenever you're tired from work, hungry, and don't want to cook. You need a proper dinner constantly to be able to be nutritionally healthy.
Alas, what's the solution to this dilemma? One answer: meal delivery services.
They previously have had a poor reputation for being bland and boring, but meal delivery services have now stepped up their game to now including fresh produce and big flavor. Some meal delivery services provide ready to eat meals, while others equip you with meal ingredients for you to quickly cook yourself.
In no particular order, here are some of the best healthy meal delivery services in which I will describe their description.
20 Best Healthy Meal Delivery Services
1. MealPro: Even though this article is written by a MealPro contributor the notion that MealPro is the best fitness food delivery service been corroborated by review publications, major newspapers, boutique gym studios, and state publications alike, here are some examples: Urban Tastebud, The Santa Cruz Sentinel, and Fit Armadillo to name a few…
MealPro is reimagining the meal delivery service space by offering high-quality fitness foods to consumers who are active in their daily lives but have no time after their day to necessarily cook a healthy meal. Meals are nutritious and provide lots of lean protein. MealPro has the capability to ship nationwide to your door.
2. PeachDish: PeachDish is a meal prep delivery service company that serves more than 200,000 meals per year to consumers across the U.S. Southern foods such as grits, fried chicken, and strawberry tart makes an appearance thanks to this company.
3. Plated: Plated is a meal delivery service that offers nine portioned recipes that rotate weekly. They received notoriety thanks to their cameo on Shark Tank.
4. Blue Apron: Blue Apron's biggest selling point is its variety of foods since not a single recipe is repeated throughout a whole year. This meal delivery service serves up recipes and ingredients created by its own culinary team, as well as guest chefs. Each dish ranges between 500 and 800 calories, and all ingredients, according to Blue Apron's site, are fresher than what you'd find at a supermarket. Its meats are also raised on antibiotic- and hormone-free diets.
5. Freshly: Freshly boasts a menu prepared entirely by professional chefs, with every dish ready to eat in just two minutes. Perhaps the biggest win of this meal delivery service is that menu is gluten-free and all-natural. While Freshly does offer a few vegetarian options, it unfortunately lacks vegan ones.
6. Munchery: Munchery is a meal delivery service that delivers ready made meals to your home or workplace. All you've got to do is heat it up in a microwave or an oven. Munchery provides different foods each week thanks to a rotating menu. This service provides a monthly subscription, but you have the ability to sample the meals if you're a new customer. The only downside is that they're only available in a few metro areas only.
7. HelloFresh
: An international flavor, HelloFresh is a multinational meal delivery service founded in Berlin, and operates in several Western European and some North American countries, and Australia. In 2015, they partnered with world renowned chef Jamie Oliver, for him to create recipes for the meal delivery service company.
8. Terra's Kitchen: Terra's Kitchen's emphasis is that it uses plenty of vegetables and are transparent about their logistics. This meal delivery service scored major points with the clever way they solved the packaging waste problem, by shipping your meals in something akin to a plastic miniature refrigerator.
9. Chef'D: Since they partner with professional chefs, the complexity of the food can vary, but it's tasty. Chef'D meals also involved more prep time and cooking techniques.
10. Purple Carrot: Purple Carrot is a vegan meal delivery service company.
11. Home Chef: Based out of Chicago, the company delivers 2.5 million meals monthly as of February 2017.
12. Green Chef: Green Chef has meal plans that cater to all tastes: omnivore, paleo, vegan, and gluten free. They're also USDA-certified organic meal kit company.
13. Takeout Kit: a meal kit prep that helps you get inspiring international dishes.
14. Sakara Life: Sakara Life claims to be the healthiest option against its competitors, with plant based foods and no dairy product. Its clientele includes A-list celebrities and Victoria Secret Angels.
15. Urban Remedy: Urban Remedy serves organic ready to eat meals and juices.
16. The Ranch Daily: The Ranch Daily offers a daily vegan meal plan to consumers all across the U.S.
17. Daily Harvest: Daily Harvest is a meal delivery service that serves plant based healthy food.
18. Sun Basket: Sun Basket serves USDA organic products that are approved by in-house nutritionists that help people consuming it feel good about themselves and the food they eat.
19. Green Blender: Green Blender is a meal delivery service that promises to deliver organic ingredients for superfood smoothies to an individual's house on a weekly basis.
20. Thistle: Thistle is a company similar to Daily Harvest that serves plant based healthy food.